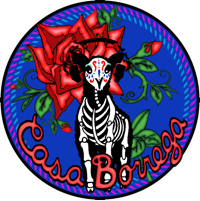 Casa Borrega in Central City is hosting its sixth annual Day of the Dead and first Frida Kahlo costume contest on Friday, Nov. 2, from 7 to 11 p.m.
The event features an altar by Hugo Montero, who has been creating Day of the Dead altars since the early 1990s in New Orleans. This year's altar is dedicated to Anthony Bordain.
The community is invited to bring photos of their loved ones who have died in the last year to place on the altar. The installation is open to the public during business hours.