In this year's municipal elections, voters either went all in for their incumbents or they voted them out. Unfortunately for District B's Jay H. Banks, he landed in the latter category. The council member lost his seat in the runoff election on Saturday (Dec. 11), and attorney Lesli Harris will be taking his place.
Harris lost to Banks in the first round of voting in the November primary, but she got 57% of the vote in the runoff. She won 53 precincts and the early votes in District B, while Banks won only 20 precincts and three were ties. Banks had his strongest show of support around Central City and Mid-City, while Harris won nearly every precinct south of St. Charles Avenue. 
Only about 11,000 people voted, a turnout of just 20%, according to unofficial election results from the Louisiana Secretary of State.
Although this was her first election, Harris proved highly adept at fundraising: Campaign finance reports showed she had more than $100,000 in funds on hand three weeks before the election, while Banks had only around $3,000 in funds on hand.
An attorney specializing in entertainment and sports law and the former chief of staff to the president of Loyola University, Harris got strong financial support from fellow attorneys and key players in the nightlife and hospitality industry. For example, in the week before the runoff, Harris reported donations from Dickie Brennan and Co., Luke Restaurant, the Louisiana Restaurant Association, the N.O. Hospitality Coalition PAC, Bearcat, Cafe Negril and Le Chat Noir. 
Jeff Bromberger, owner of Frenchmen Street nightclubs Dragon's Den and Maison, was a major donor. He is also listed as her treasurer on her campaign finance report.
One campaign finance report also listed three separate donations of $2,500 from three sources that all share the same address and all donated on the same day: Kamo Enterprises, MDK 706 LLC, and MDK LLC. The address is listed as 700 Bourbon St., home of Cornet Restaurant.
The campaign contribution limit for a district council race is $2,500 per person per election, but donating multiple times via different LLCs is allowed as long as the entities are legitimate businesses and are not 100% owned by the same person.
Banks is not the only incumbent this year to feel the sting of defeat. While council members Joe Giarrusso and Helena Moreno won overwhelmingly in the first round of voting, every incumbent who was forced into a runoff lost, including Banks, District E Council member Cyndi Nguyen and Sheriff Marlin Gusman, who has held his post for 17 years. 
Even Moreno, who was re-elected to her at-large district seat with 85% of the vote, ended up snubbing her colleague Banks and endorsing Harris.  
A map of who won in each precinct is below. To see how your neighbors voted, check out the interactive version of this map here. Find your ward and precinct here.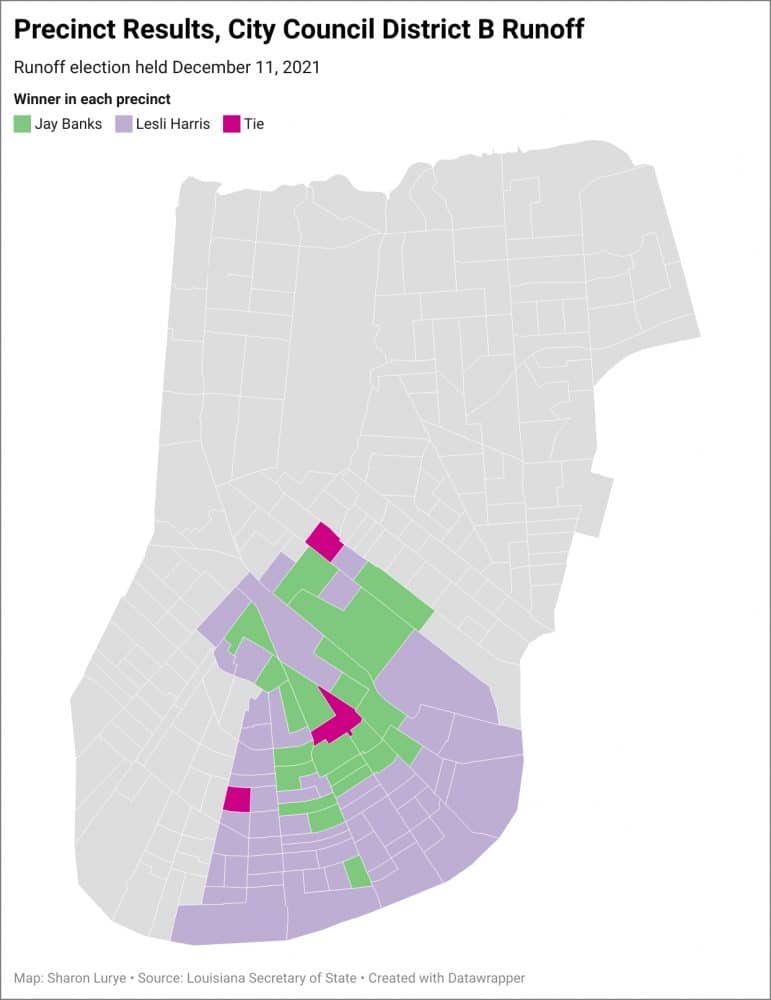 Reporter Sharon Lurye can be reached at sharonrlurye@gmail.com.