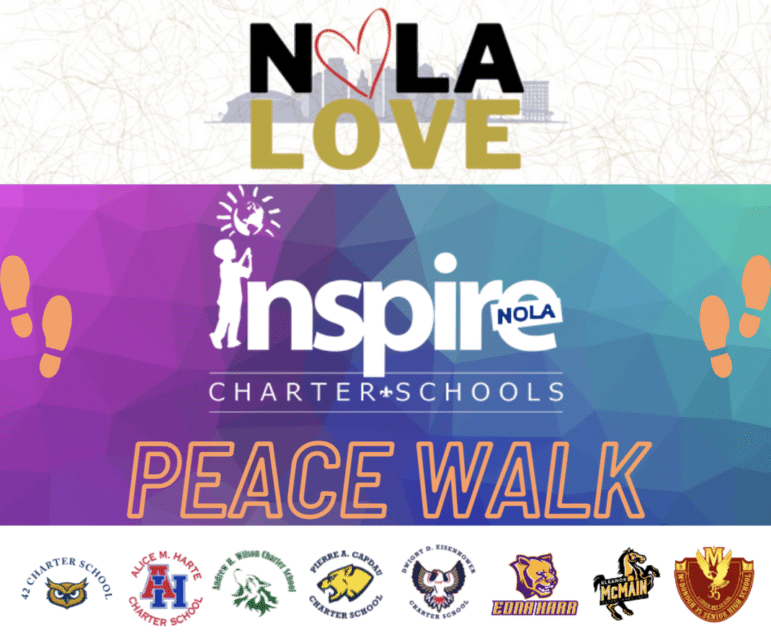 InspireNOLA high school students from Edna Karr, Eleanor McMain, and McDonogh 35 hosted a peace walk on January 11th, bringing awareness to the ongoing gun violence happening across New Orleans with the strive for peace in the city. NOLALove advocates for our youth by providing services focused on academic excellence, mental health awareness, family wellness, and community service to transform the outcomes of today's youth both inside and outside the classroom.

Following the peace walk, students held a "walk-in" at their schools, participating in sessions of reflection where they heard from alumni, students, and mental health professionals. Watch the recap below:
To learn more about NOLALove, InspireNOLA Charter Schools and support efforts against gun violence and crime in New Orleans, visit NOLALove – InspireNOLA Charter Schools.
About InspireNOLA Charter Schools
Founded in 2013, InspireNOLA Charter Schools operates a network of eight public charter schools in New Orleans, including Alice M. Harte Charter School, Andrew H. Wilson Charter School, Dwight D. Eisenhower Charter School, McDonogh 42 Charter School, Pierre A. Capdau Charter School, Edna Karr -High School, Eleanor McMain Secondary School, and McDonogh 35 Senior High School. InspireNOLA currently serves more than 5,800 students in prekindergarten through 12th grade.