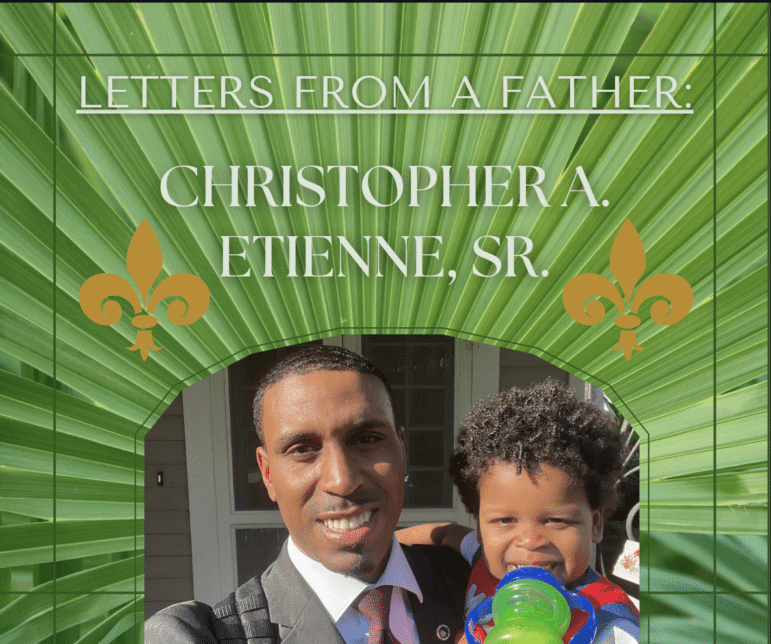 Dear Son,
By tradition, the third Sunday in June is celebrated for Father's Day to honor our Nation's fathers. "The childhood shows the man as morning shows the day," the late poet John Milton wrote. Therefore, I am proud to take on the responsibilities and joys of fatherhood. Just like my father, which is your "Paw-Paw!" I am dedicated to ensuring you have every opportunity to thrive and reach your full potential. He instilled in me some of the most important values that guide me to this day. He taught me to "work smart at working hard," "don't accept wooden nickels," and that it "pays the cost to be da boss." His love, guidance, and devotion helped shape my character and perspective on life.
The late U.S. President Ronald Reagan uniquely described fatherhood in his Father's Day address, arguing, "Being a good father is an art that cannot be taught in schools. The main ingredient for success is simply a caring attitude. Father's who love their families can never completely fail, and children will always remember the influence of a father who tries to do his best. For many children, the memory of a loving father will be the most important influence in their lives."
Moreover, the scholarly author, Ellen Cantarow, famously wrote, "To have a child…
is to decide forever to have your heart go walking around outside your body."

As a result, I pledged on the day of your birth that I would be the greatest father in the world. Since then, I've found nothing else in my life that compares to my enthusiasm for spending time with you. To a large degree, nothing else comes close to the gratification I feel in your achievements and the encouragement I get from watching your strong growth and development.
In the end, son, I have been blessed to achieve many things throughout my life. However, on this special day, I can say without hesitation that the most challenging, fulfilling, and important job I will have during my time on this Earth is to be a great father to you. Therefore, no matter what challenges and controversies life may bring, being your father is a blessing and honor that I embrace. Love you!


Christopher A. Etienne, Sr.'s passion for public service comes from a deeply held desire to impact the lives of others while transforming his community. Born in New Orleans, Louisiana, he was taught at an early age the significance of service, community strength, quality education, and the principles of social justice.
In June 2022, Mr. Etienne was appointed the Director of Community and Governmental Affairs at NOLA Public Schools (NOLA-PS). In this capacity, he is responsible for increasing public engagement and confidence in the school system.
Before joining NOLA-PS, Mr. Etienne served as a Legislative Aide to the former U.S. Representative Cedric L. Richmond and U.S. Senator Mary L. Landrieu, both of Louisiana and U.S. Representative Jahana Hayes of Connecticut. In these roles, he was responsible for analyzing and drafting legislation that serves the common good, promotes racial equity, and supports economic mobility and opportunity for children and families of all backgrounds, especially the most vulnerable.
Mr. Etienne earned a Master of Arts degree in Political Science, with a concentration in Black Politics and a minor in Public Policy, from Howard University in Washington, D.C., and obtained his Bachelor of Arts degree in Political Science from the University of Arkansas at Pine Bluff (UAPB). He was also selected to the New Orleans Regional Leadership Institute (NORLI) Class of 2023.