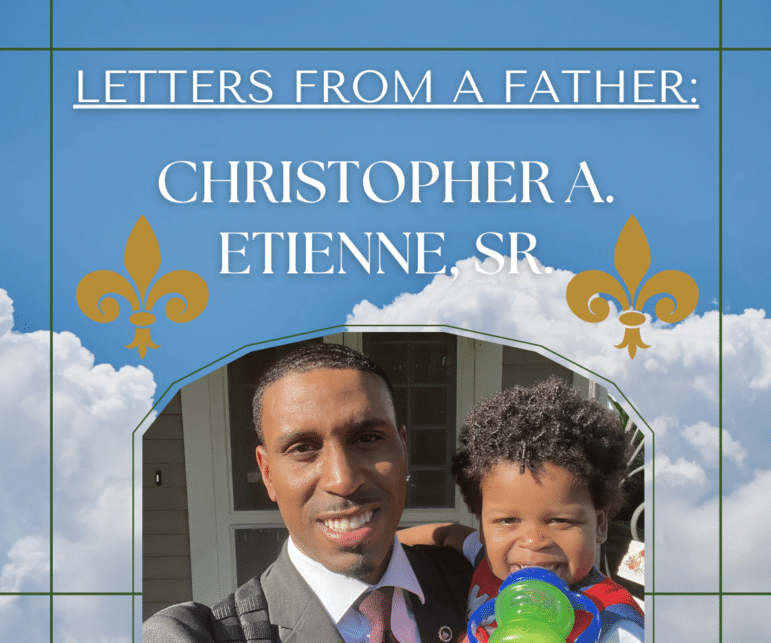 Dear Son,
My heart is filled with appreciation and gratitude for the love and enthusiasm you display for the church, classroom, community, and culture. I remain committed to creating a culture of excellence for you to thrive and excel in this life's journey. Indeed, we live in a time of transition for the working family. However, the strength and stability of a healthy, loving family life continue to remain the foundation on which our society is organized.
Former U.S. President Bill Clinton argued, "Being a good parent means much more than protecting our children from harm. It means teaching our children how to love and how to learn; it means working to give them opportunities they need to make the most of their lives; it means fostering their self-esteem and independent spirit so they can make their own contribution to our world. Being a parent is a challenge, a privilege, and a lifelong commitment."
As a result, I stand committed to the responsibilities of fatherhood. I was encouraged by the June 2023 legislative announcement of the Father's Day resolution from the Congressional Dads Caucus in the U.S. House of Representatives and a similar resolution agreed to in the U.S. Senate. This Caucus seeks to provide a forum for Members of Congress to advocate for legislation that meets the needs of working families.
Moreover, I am reminded of a statement on parenthood by former U.S. President Barack Obama, when he eloquently argued, "As parents, we should remember there's one responsibility that's always in our power to fulfill: our obligation to give our children unconditional love and support, to show them the difference between right and wrong, to teach them to love, not to hate, and to appreciate our differences not as something to fear, but as a great gift to cherish." So, I must say that I believe this responsibility is worth the time and effort. As a result of that time and effort, we can draw strength from our victories.
In closing, let me say that I am proud of you. I remain committed to providing you with the security, stability, and love to enable you to grow healthy, happy, and strong. And I will keep my eyes fixed on that distant horizon, knowing that God is with us and will never leave us alone. Love You!


---
Christopher A. Etienne, Sr.'s passion for public service comes from a deeply held desire to impact the lives of others while transforming his community. Born in New Orleans, LA, he was taught by his parents at an early age the significance of service, community strength, quality education, and the principles of social justice.
Currently, Mr. Etienne serves as the Government Affairs Director for the New Orleans Metropolitan Association of REALTORS®. In this capacity, he is responsible for leading the organization's advocacy and political efforts at the local, state and federal levels of government.
Previously, Mr. Etienne served as Director of Community and Governmental Affairs at NOLA Public Schools. He also served as a Legislative Aide to the former U.S. Representative Cedric L. Richmond and U.S. Senator Mary L. Landrieu, both of Louisiana, and U.S. Representative Jahana Hayes of Connecticut. In these roles, he was responsible for analyzing and drafting legislation that serves the common good, promotes racial equity, and supports economic mobility and opportunity for children and families of all backgrounds, especially the most vulnerable.
Mr. Etienne earned his master's degree in political science, with a concentration in Black politics and a minor in public policy from Howard University in Washington, D.C., and earned his bachelor's degree in political science from the University of Arkansas at Pine Bluff (UAPB). He is also a graduate of the New Orleans Regional Leadership Institute (NORLI) Class of 2023.