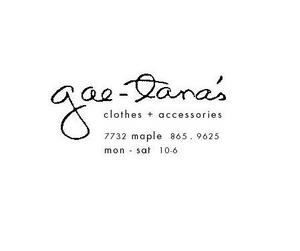 The right piece of jewelry can completely change a look. At gae-tana's, you'll find a wide selection of contemporary jewelry and accessories to accent your existing wardrobe, adding a subtle touch of style at an excellent value. Offering only the latest designs, gae-tana's will help you find that little extra something that you need.
Keep reading to learn more.
The jewelry collections at gae-tana's feature a range of earrings, necklaces, and bracelets. Current ideas include mixed-metal necklaces that come in both classic and vintage styles, and bracelets in a variety of designs that include multilayer, wrap, and bangles. The array of earrings ensures the perfect fit to accentuate every personality and style. gae-tana's also offers complimentary gift-wrapping, with our signature gift packaging for your friends and family.
gae-tana's also features a eclectic selection of accessories, including bags, belts, sunglasses, clips, and scarves. Linked tortoiseshell and gold watches are inspired by michael kors. Ready for the change in seasons, it's time to add a warm, casual look to your closet.
For over 26 years, gae-tana's on Maple Street has been serving the Uptown community with a combination of selection, service, and price. Open from 10-6 Monday to Saturday, gae-tana's is located at 7732 Maple Street. Call 865-9625, visit http://www.gae-tanas.com/ or the gae-tana's Facebook page for more details.