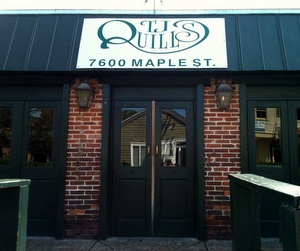 The new owner of a Maple Street college bar that last year struck a bargain with the city to stay open amid allegations of underage drinking and other violations is now being praised for his efforts to make peace with his neighbors.
After a police raid in 2011, the owner of TJ Quills signed a restrictive "consent judgment" with city officials that promised to help the neighborhood pay for security patrols and take strong measures to reduce noise and litter. Leaders of Maple Area Residents Inc. said the bar never subsequently followed through with them, and prior to the case returning to the city Alcohol Beverage Control board in June, they found out that the bar had just recently been sold to a new owner, Darian Blanchard.
Blanchard and his attorney, Peter Title, told the board that they had only learned of the consent judgment and the required $250 monthly payment for security just a few days prior to the meeting. They were given a month to get into compliance, and during that time, wrote MARI an initial check for $500 in "seed money" to start the security detail, Title said before the board Tuesday afternoon.
"We don't run the patrol, we just simply fund it, so we have provided them with the funds that they've requested to start the patrol," Title said.
Meanwhile, Blanchard also wrote MARI a letter explaining his extensive efforts to reduce noise and litter issues around the bar, Title said. There were no current complaints about the bar's operations, and when city attorney Dan McNamara pointed out that a $2,000 fine from the original consent judgment remained unpaid, Title said Blanchard was previously unaware of it but would pay that amount as well. That promise satisfied McNamara.
"I've got every confidence that will be done," McNamara said. "I don't think we need to put it back on the docket."
Blanchard's efforts to build a new reputation for the bar drew praise from board chair Rocky Seydel.
"I think it's admirable the way that you've taken the opportunity to send a letter in. Although you were not the owner when this consent judgement was reached, you've made apparently every effort to comply," Seydel said. "What is important to this board is the quality-of-life issues for the neighborhood, and I would encourage you to keep up contact with them, and I think that doing that will go a long ways towards preventing any further appearances before the board."
Also on Tuesday's agenda but continued until August were pending cases against Key Food Store on Louisiana Avenue and The Show on Tchoupitoulas.