The Victorian coffeehouse on Nashville and Magazine Street predates the nearby chains by over twenty-five years. Café Luna is more than a neighborhood hangout; it's become an Uptown fixture. Well known for its hip vibe, superior coffee, and Eastlake corner porch, it's also a restaurant.
Laidback owner Greg Hill, resident coffee connoisseur and barista, took over the business in 2013. Hill's changes include breakfast and lunch menus offered daily. You can also happen upon the occasional gourmand pop-up if you're lucky. The latest is Moroccan and Tunisian inspired and scheduled this Saturday night from 5 -7 p.m.
Chef Matthew Kopfler, a Culinary Institute of America trained chef and neighbor, has put together a small-plate menu inspired by the traditional dishes of North Africa.
Saffron, garam marsala, red chilies, and cumin feature heavy on his menu, along with mint and lentils. A Chicken Haleem plate of barley, wheat, and lentils; a Mechoui Lamb with saffron and lentil dish; and Msoura, a carrot plate with harissa, lemon, and cilantro will be offered, along with a Fruit and Meze plate featuring hummus, apricots, figs, salad, and cheese. A pistachio Baklava is the last course.
Kopler, formerly of Gautreau's and Emeril's, began his career in Nantucket after a stint in Hilton Head. Kopler will be joined by Chef Blair Kolb on the bakery front. Kolb will be preparing Za'atar Rolls, Coriander Rye, and Cumin-Chili flatbreads for the pop-up.
Café Luna's kitchen is really Kolb's territory. Chef Kolb, who trained at the California Culinary Academy and followed up with six years as Emeril's pastry chef, heads Café Luna's regular menu.
Kolb cites his breakfast Eggs Bahn Mi of Poached Eggs, Pulled pork, Daikon Slaw and Cilantro as his bestseller. There is also an Andouille Biscuit and Chicken and Waffles. The Brown Butter Corn Waffles are toped with a sunny-side up egg and Chicken Confit. The bagel menu offers a variety of fillings, including a house-cured coriander gravlax, black forest ham, scrambled eggs, cold-smoked salmon, vegetables, or the requisite cream cheese choices.
Kolb's fluffy moist strawberry and peach muffins have become my new carb addiction. There is also a unique Red Bean muffin that must be tried. A lunch menu of Paninis and Wraps includes a "BLC" of Bacon Lettuce and Chicken Confit with Sweet Jalapeño Pepper Jelly. Food is served until 2 p.m.
Café Luna
802 Nashville Avenue
New Orleans, Louisiana 70115
https://www.facebook.com/pg/CafeLuna504
@cafeluna
@batchburner for chief barista and owner Greg Hill
Chef Matthew Kopfler
l'enfant terrible catering and private chef
matthewkopfler@gmail.com
@lenfantterriblenola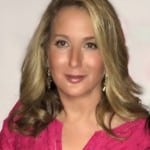 Kristine Froeba is a fourth generation Uptown girl whose varied background includes food and travel writing, celebrity ghost writing, public relations, social media management, fundraising, preservationist, reluctant tabloid hack, and litigation specialist. She describes herself as part foodie, part writer, part historian, historic renovation zealot, and full time dabbler.