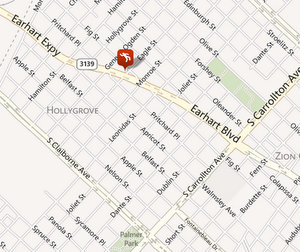 A member of the Walter L. Cohen football team was shot to death Friday evening in front of a vacant home at Fig and Eagle, authorities said.
The victim was 19-year-old Brandon Baker, a 300-pound defensive tackle nicknamed "Big Baby" for being a mama's boy, a Cohen coach told Leslie Williams of The Times-Picayune.
Baker was shot several times around 7 p.m. by a gunman in a silver Chevrolet HHR that was later captured on nearby surveillance video, police said. Anyone with information is urged to call NOPD Homicide Detective Timothy Bender at 658-5300 or CrimeStoppers at 822-1111 to leave an anonymous tip that could be eligible for a cash reward of up to $1,000.
The surveillance video, via our partners at WWL-TV: