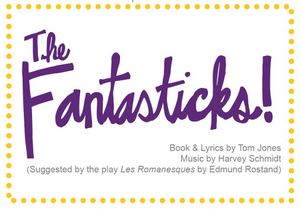 The Isidore Newman School Theatre Department will run six nights of "The Fantasticks," opening Thursday (Nov. 8) at the school.
For more information see the following press release from the school:
The Isidore Newman Theater Department will be presenting an upper school production of The Fantasticks in the school's Henson Auditorium. Please see below for details.

For more information on this event or upcoming theater events, please call Rebecca Thomason at (504) 896-6328 or RebeccaThomason@newmanschool.org.

EVENT LISTING
Event Name:The Fantasticks
Dates:November 8, 9, 10, 15, 16, & 17 | 7:30 p.m.
Location:Isidore Newman School | Henson Auditorium (5333 Danneel St.)
Price:Students $5, Adults $10
Tickets:http://www.brownpapertickets.com/event/291998
Phone Number:(504) 896-6328
Description:Inspired by the play Les Romanesques by Edmund Rostand, The Fantasticks is the longest running Off-Off Broadway show ever.