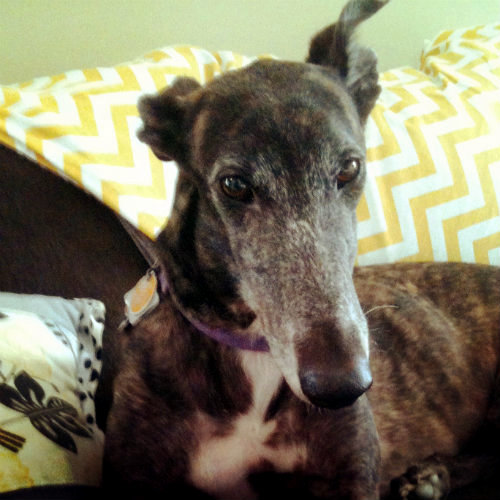 There's an old joke that eventually, people start to resemble their dogs. I got a greyhound about two years ago, and while I'm still waiting to be tall and skinny like her, I've grown content to share personality traits with my retired athlete instead: We both like long walks, yogurt, and hogging space in the bed.  
But we weren't always BFF. Greyhounds are a special breed, akin to adopting a cranky teenager with a built-in lifetime of bad habits. They're timid, afraid, and might come from an abusive environment depending on the former owner. The dogs typically race until they're 3 to 5 years old, then are retired from the tracks. Imagine being holed up in a room all day, only let out to run.  When we first got our needlenose, she had never gone up and down a flight of stairs and was deathly afraid of the dishwasher. Other dogs frightened her, unless she saw another greyhound, which was akin to watching long lost lovers embrace.
Since that rocky start, she's proven to be a great dog, one that is low maintenance, quiet (they rarely bark), and well behaved. But there are a few things you need to know before bringing your own 30-mph couch potato home:
– Secure everything. When you've got a dog that can run 30-40 mph, having a secure home is key. While a yard isn't a necessity, make sure your dog can't get out. Accidentally leaving the front door open can result in a lost dog before you even realize it's gone.  When our foster family came over, we got a full inspection of the yard and house to ensure we wouldn't have to worry about an escape artist.
– Be patient.  Don't expect a cuddle monster that rolls around playing fetch with you. Nadia would rather hold down the couch than play ball.   Every year their personalities open up a little bit more. Now instead of only being aloof, she's goofy and excitable when you utter the magic word "outside".
– Thin is in. Remember, your dog is supposed to be thin. After all, they are bred for speed. Since greyhounds can't regulate their body temperature as well as a canine with more meat on its bones, keeping them inside is an absolute necessity.  A comfortable dog bed is a good investment, although mine prefers the couch.
– Good food. Greyhounds need a high protein diet. Skimp on this and you'll have a nonstop fart factory on your hands.  I made the switch from Blue Buffalo to Blue Buffalo Wilderness with extra protein and  we are now living stink free.
– Don't be disappointed. Nadia doesn't play like regular dogs, except for when she gets riled up. Toys? She's too aloof for that nonsense. But come home from a long day at work, and she gets so excited to see me she takes off running in the house like she's at the track again.
I highly recommend reading Greyhounds for Dummies before you bring your pooch home. It covers a lot of ground, and provides you with a realistic expectations for your former track star.
Adoption resources:
http://www.houndsabound.org/
http://www.itsagreyarea.com/
http://www.gulfcoastgreyhounds.org/
Christy Lorio, a native New Orleanian, writes on fashion at slowsouthernstyle.com and is also a freelance writer whose work has been featured online and in print magazines both locally and nationally.