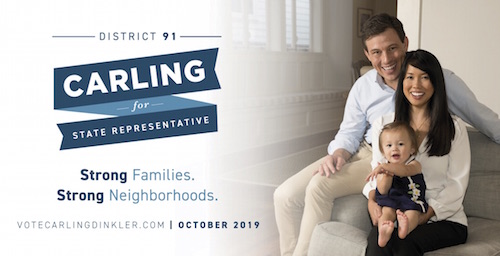 Dear Neighbors:
If you're like me, then you love this city, but you're frustrated with the chronic challenges holding us back. My wife, Ayame, and I are determined to help make New Orleans a place where our daughter, and all children, can have promising futures. To achieve this, we need big solutions and an experienced and progressive voice representing us in Baton Rouge.
Driven by my strong desire to serve, I've worked in public policy my whole career: in state and federal government, and now, in the private sector. I am running to bring my experience to the state legislature as our representative for District 91, a diverse district that includes Hollygrove, Gert Town, Irish Channel, Fontainebleau, Marlyville, Broadmoor, River Garden, Uptown, and the Lower Garden District.
My priorities include:
Prioritizing families by investing in education, particularly early childhood education, and by taking care of working moms and dads.
Stabilizing our state revenue streams in a way that does not put an outsized burden on the working-class.
Reforming the criminal justice system so that it is fair.
Investing in mental healthcare and substance abuse programs. My mother suffered with both before taking her own life, and this issue is very personal to me.
The election is in October, and I'm working everyday until then to get our message out. I hope to see you at neighborhood meetings, festivals, meet-and-greets, and other community events.
To learn more about us, sign up to receive updates, and join our team, please visit votecarlingdinkler.com.
Thanks and Happy Mardi Gras!
Carling Dinkler
Candidate for Louisiana House District 91
carling@votecarlingdinkler.com
[This is a message paid for by Friends of Carling, LLC. NOLA Messenger does not endorse political candidates for office.]