Semi-retired businessman Leo Marsh and his daughter Helen rose early Wednesday morning to be among the first in line to receive the city's free Covid-19 home testing kits. "While we are both fully vaccinated, we wanted to be able to test in advance of seeing family members and friends," said Marsh, a former AT&T executive.
A limited number of kits were available at four New Orleans fire stations "in anticipation of a surge in omicron cases during the busy holiday season," according to a city-issued press release. 
People around the world have been making difficult decisions about how they will celebrate the winter holidays. Should they continue with travel plans to visit family and friends, or should they keep their guard up and stay close to home? "An event canceled is better than a life canceled," said World Health Organization Director-General Tedros Adhanom Ghebreyesus. U.S. Rep. Troy Carter, D-New Orleans, recently canceled a planned reception for newly elected officials. Former Mayor Marc Morial and the Urban League of Louisiana just canceled a highly anticipated annual awards luncheon.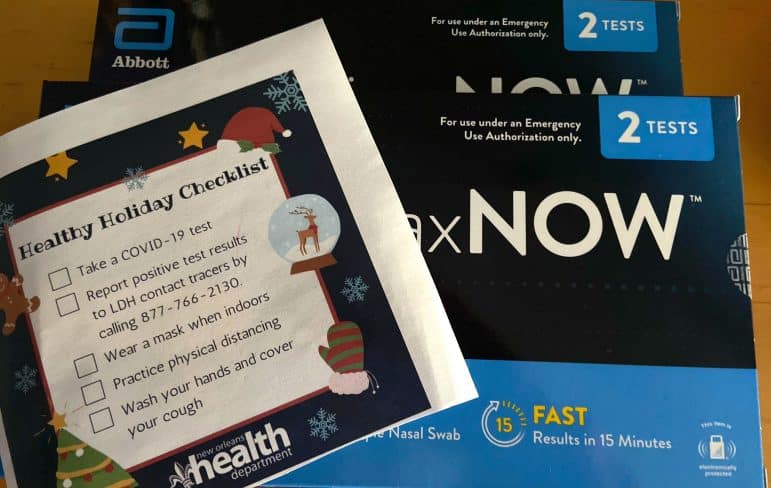 With the season in full swing, New Orleans residents and visitors have a myriad of opportunities to interact with others while shopping, dining out, or attending parties, concerts, sporting events and church services. During such events they could perhaps catch or spread the highly contagious omicron strain, now considered to be the world's dominant variant. "Omicron is here and spreading rapidly," said Dr. Jennifer Avegno, director of the New Orleans Health Department. Omicron is thought to mushroom three times faster than the delta variant and may also be better at evading vaccines, the Associated Press reported.
Although not an impenetrable barrier, coronavirus vaccines act like a shield against the disease. Most Covid-19 patients who are vaccinated and boosted exhibit fewer symptoms and are far less likely to be hospitalized or die from omicron. That's why getting full protection has become even more important as the virus continues to mutate.
According to USA Today, updated Covid-19 modeling from the University of Washington School of Medicine's Institute for Health Metrics and Evaluation predicts that 140 million Americans will become infected between Jan.1 and March 1, 2022. Omicron is expected to peak in late January at about 2.8 million new cases per day. It is expected that 90% of people infected might never show symptoms and won't feel sick. Therefore, many of the new cases may never be reported.  
The normal flu season is also in progress which kills tens of thousands of Americans each year. Flu infections are on the rise in 2021 after a decline last year due to social distancing. Vigilance is necessary especially for citizens over the age of 65, The New York Times reported.   
More than 122,000 Americans are already being diagnosed each day, according to the Centers for Disease Control and Prevention. Research from Johns Hopkins University's School of Medicine indicates that approximately 51 million cases have been confirmed in the U.S. since the pandemic began.
Health professionals agree that most Americans will eventually contract some form of the coronavirus. The pandemic has killed almost 15,000 Louisiana citizens, according to the Louisiana Department of Health. It has caused economic decline in New Orleans, lowered test scores across almost all city schools, increased crime and drug overdoses, and led to more mental health crises. 
But that doesn't mean we should give up. To the contrary, we must double down. Push vaccinations harder to all those in your circle who have yet to receive both shots. Encourage more vaccinated people to get boosted.
Upgrade your mask to an N95 or similar high-filtration respirator when you are in public indoor spaces. Splurge on a couple of high quality masks and wash them after every use. Consider double masking if you are immunocompromised or feel particularly vulnerable. Plain cloth masks may not hold up against omicron. 
Finally, test, test, test. Use a home test or visit a testing site on a regular basis. President Joe Biden is prioritizing testing as America's front line against omicron. While Mayor Cantrell's distribution of approximately 4,000 home testing kits was just a drop in the bucket, it was a good start.
Cantrell pledges to have more kits available soon. Earlier this week, the Biden administration announced that 500 million rapid tests would be mailed to citizens beginning next month. In the meantime, CVS and Walgreens drugstores are limiting the number of at-home Covid-19 tests a customer may purchase. 
The holiday season is about sharing and giving of yourself to others. What better gift could you give than helping ensure your family, friends and neighbors are safe from this life-threatening disease?
Mardi Gras is right around the corner. Let's keep omicron at bay so we can have a robust Carnival season this year.    
Danae Columbus, who has had a 30-year career in politics and public relations, offers her opinions on Thursdays. Her career includes stints at City Hall, the Dock Board and the Orleans Parish School Board and former clients such as former District Attorney Leon Cannizzaro, City Councilman Jared Brossett, City Councilwoman at-large Helena Moreno, Foster Campbell, former Lt. Gov. Jay Dardenne, former Sheriff Charles Foti and former City Councilwomen Stacy Head and Cynthia Hedge-Morrell. She is a member of the Democratic Parish Executive Committee. Columbus can be reached at swampednola@gmail.com.