Many supporters of the campaign to recall Mayor LaToya Cantrell may have been surprised Tuesday (March 14) when the mayor and Lower 9th Ward activist Rev. Willie Calhoun filed a challenge to the negotiated settlement on the recall case. Because of the settlement, 25,000 New Orleans voters were temporarily moved to the inactive voter list, which eliminated them for the overall number of authenticated signatures needed to trigger a recall election. After all, the Registrar of Voters has until March 22 to review all the signatures. If the recall's goal is not met, the recall campaign is automatically over.  
Attorneys for Secretary of State Kyle Ardoin and NoLaToya.org had arbitrarily agreed to the 25,000 number when, in fact, the data consultant for the recall determined the number of voters who had moved away, died or are inactive is considerably higher. A quick look at voter turnout in recent elections illustrates that many New Orleanians do not prioritize voting. In fact, one of the candidates currently running for judge has not voted in the last four presidential elections. 
Now that the issue of active and inactive voters will be revisited, there is an opportunity for the real number of eligible voters in Orleans Parish to emerge — which could lead to the clean-up of voter rolls statewide. Perhaps many New Orleanians do not realize that the cleansing of voter rolls is mandated by federal law. Under the National Voter Registration Act of 1993, the registrar of voters of each parish or county must send annual notices to voters listed as inactive on the rolls. Voters who do not respond to the notices and who do not vote in the following two federal elections must be removed from the voter rolls. 
Groups like Judicial Watch, a conservative foundation that primarily targets Democrats, have been litigating the issue in federal courts around the country. In 2019, Los Angeles County sent almost 1.6 million address confirmation notices to voters listed as inactive and subsequently removed 1,207,613 voters from the voter list. Before the mailing, Los Angeles County had allowed more than 20% of its registered voters to become inactive without removing them. The county also confirmed in 2022 that more than 634,000 of its inactive voters hadn't voted in at least 10 years.
The settlement in that case (Judicial Watch Inc., et al. v. Dean C Logan, et al.) also required an update to the state's online Voter Registration Act manual to make it clear that ineligible names must be removed and to notify each California county that they are obliged to do this.
In New York City, a Judicial Watch lawsuit caused officials to remove 441,083 ineligible names and support an agreement to take responsible steps going forward. More than 5 million voters are registered in New York City. Many other states have also been cleaning up their rolls. In Georgia, 100,000 names were removed from voter registration rolls in 2021 in an attempt to keep the state's files up to date. 
Louisiana, as well as 32 other states and the District of Columbia, is a member of the Electronic Registration Information Center, which allows officials to compare the data from other states against its own voter rolls to identify registrations that are no longer accurate. 
Cleaning up the voter rolls in Orleans Parish and all across Louisiana would be historic. The new Cantrell litigation might end up at Louisiana's Supreme Court before it is ultimately decided. Yet if the voting rolls finally get a complete overhaul, it will be time well spent.     
COUNCIL MEMBERS CALL OUT FEDERAL CONSENT DECREE MONITORS
In the wake of a leaked flash drive containing recorded police interviews with NOPD officer Jeffrey Vappie and others, City Council President JP Morrell criticized the federal consent decree monitors Wednesday (March 15) for what he described as a "disinterest" in getting involved in the  investigation of Vappie's activities while a member of Cantrell's security team.
In a prepared statement, Morrell said that the Vappie investigation is "completely compromised. We asked the Federal Consent Monitors to take this case in-house due to potential conflicts, this is exactly the outcome we feared would happen." 
The administrative investigation has been handled by the NOPD's Public Integrity Bureau headed up by Deputy Chief Arlinda Westbrook. Believing the PIB might have trouble conducting an investigation that would be impartial, Morrell and District A Councilman Joe Giarrusso initially suggested the federal monitors oversee the process.  
Lead monitor Jonathan Aronie is charged with overseeing NOPD's progress in achieving the goals outlined 10 years ago in the consent decree. Critics says Arnoie relationships with the NOPD is complicated because of the Active Bystandership for Law Enforcement program, better known as the ABLE project. This nationally recognized program has prepared officers in hundreds of policing agencies around the country to successfully intervene to prevent harm and to create a law enforcement culture that supports peer intervention.  
ABLE has in roots in New Orleans, where its predecessor, the EPIC (Ethical Policing is Courageous) peer intervention program, got its start under psychologist Ervin Staub. ABLE was later developed via a partnership between Georgetown University Law Center's Center for Innovation in Community Safety and the global law firm Sheppard Mullin where Aronie is a partner. 
According to ABLE's website, Arnoie serves as chair of their advisory board. In 2020-21, NOPD officials or former officials who also served on the board and/or were conference speakers include the PIB's Westbrook, NOPD Lieutenant Travis Brooks, NOPD Lieutenant Ernest Luster, City of New Orleans Director of Public Safety and Homeland Security John Thomas, former NOPD Chief Michael Harrison, and former NOPD Deputy Superintendent Paul Noel, who is now the police chief in Knoxville, Tenn. ABLE's website includes a disclaimer that some individuals participate on the ABLE Board of Advisors in their personal capacities. Yet, it may often be difficult to separate personal relationships from professional roles.
Was Arnoie's decision not to take the lead on Vappie's administrative investigation based on his reluctance to step on the toes of his fellow ABLE board member Westbrook, whose official NOPD role includes handling such tasks?  If Morrell and Giarrusso have their way, Independent Police Monitor Stella Czimet will begin the investigation over again. Vappie is also the subject of an ongoing criminal investigation. Under Czimet's leadership, details about the real Jeffrey Vappie and the reason for his actions could finally surface.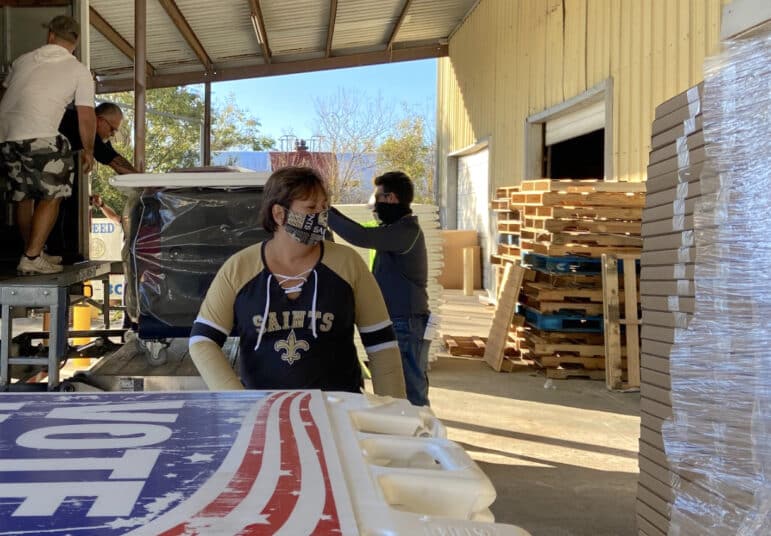 EARLY VOTING CONTINUES THROUGH SATURDAY
With two more days of early voting still available, citizens are urged to get out and vote in two judicial race and for the Louisiana state representative in HD 93. Only 3,290 New Orleanians have visited the polls so far. Voting is taking place through Saturday (March 18) from 8:30 a.m. until 6 p.m. at City Hall, the Voting Machine Warehouse, the Algiers Courthouse and the Lakeview Christian Center.  
MARCH 20 FUNDRAISER SET FOR STATE REP AIMEE FREEMAN
State Rep. Aimee Freeman will benefit from a Monday (March 20) fundraiser at the Uptown home of Lori and Bobby Savioe. All legislators are up for re-election in the fall.  State law prohibits legislators from holding fundraisers during the regular sessions of the legislature.  Among the A-Listers for Freeman's event are Alice Franz Glenn, Amanda and Ryan Berger, Susan and Greg Rusovich, and Jay Lapeyre. For more information contact Anne Redd at 504-338-8073. 
Danae Columbus, who has had a 30-year career in politics and public relations, offers her opinions on Thursdays. Her career includes stints at City Hall, the Dock Board and the Orleans Parish School Board and former clients such as former District Attorney Leon Cannizzaro, former City Councilman Jared Brossett, City Councilwoman at-large Helena Moreno, Foster Campbell, former Lt. Gov. Jay Dardenne, former Sheriff Charles Foti and former City Councilwomen Stacy Head and Cynthia Hedge-Morrell. She is a member of the Democratic Parish Executive Committee. Columbus can be reached at swampednola@gmail.com.