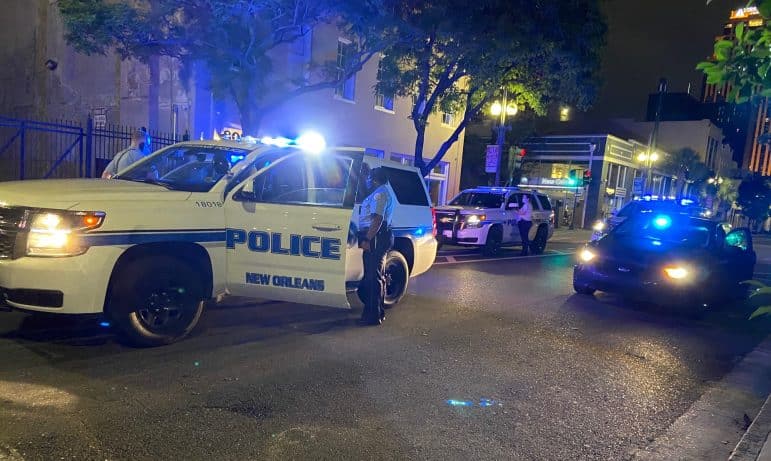 As with most mayors entering a new term, LaToya Cantrell delivered an upbeat message at Monday's Covid-restricted inauguration on the steps of Gallier Hall: Though New Orleans has endured a tough four years, citizens are resilient and many opportunities lie ahead. "Our time is now, and the best is yet to come," Cantrell proclaimed.
Like many New Orleanians, I soaked up her words, wanting to believe the city will change. It wasn't long before the latest crime statistics brought me back to reality. Just 13 days into the New Year, seven innocent people have died.
It won't be "our time" until community leaders, the NOPD and our elected officials — mayor, council members, district attorney and judges — join together as one focused, committed team to get a grip on crime. The elephant in the room can't stand in the shadows any longer.
"If the current trends for 2022 continue, we will blow by last year's numbers," said Rafael Goyeneche of the Metropolitan Crime Commission. More than 4,500 major crime incidents occurred in 2021 impacting many thousands of victims, their families and friends.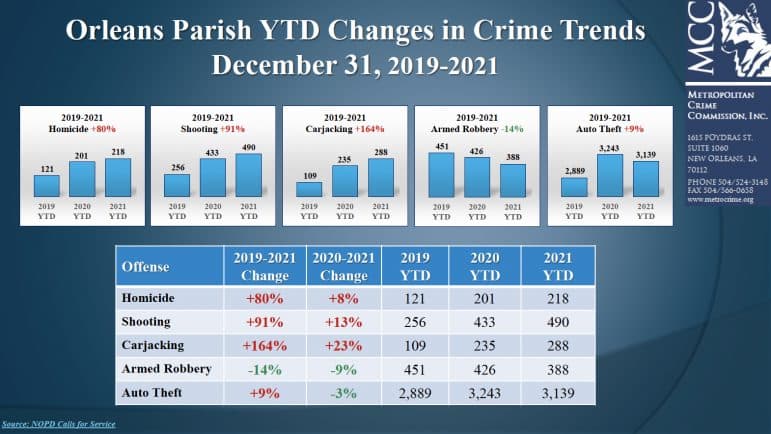 "We can't wish it away. We can't hope it away," Goyeneche said. "Offenders feel no consequences." On the off chance that criminals get arrested, most will be released with little or no bail and prosecutors will downplay the vast majority of cases. Jail time is often unlikely.
It is highly unusual for the NOPD to publicly point the finger at the district attorney for the steady rise in crime. Yet the city's police force now contends that while they are performing their role despite an officer shortage, others in the criminal justice system are blatantly disregarding their jobs. When WWL-TV reporter Mike Perlstein asked the NOPD about a citizen proposal to call in the National Guard, the Police Department released a statement that read, in part: "We could have 500 more officers and the National Guard, but if the charges aren't brought to court, it's all in vain."
"It's an indication of a crack in the wall that is expanding and growing between police and prosecutors," said Goyeneche, who remembers a similar acrimonious relationship when Eddie Jordan was district attorney and Warren Riley served as police chief.
Goyeneche also said he believes that several of the new council members, unlike their predecessors, are committed to attacking the problem. "Perhaps it's a silver lining," he said. "The public is really at a tipping point and demanding something be done to make the criminal justice system more accountable."
Since crime won't be slowing down anytime soon, citizens who want to avoid becoming victims must take personal responsibility for their own safety. The city of Sacramento, California, among many others, offers an extensive list of safety and crime prevention tips. The most basic of course is that citizens must pay attention to their surroundings at all times.
Add additional motion-activated security lights around your home and in your driveway. Install an anti-theft device on your car. Always keep your house and car doors locked. Reduce the amount of cash or credit cards you carry. Carry defensive devices such as pepper spray.
Get to know the officers in your police district. Attend the district's crime meetings. Become more involved with your neighborhood association's anti-crime efforts. The new version of the old neighborhood watch programs has never been more essential.
Pay attention to crime and crime trends in your area. Communicate regularly with the mayor, your district and at-large council members, and their staff. Attend the City Council's Criminal Justice Committee meetings and public meetings the district attorney might have. Hold your elected officials' feet to the fire.
Some people are engaging in what others might consider extreme measures — limiting travel after sunset, running red lights at night on dark streets, leaving purses and jewelry at home, and even driving to suburban parishes to purchase gasoline.  Sacramento officials warn that three factors must be present for a crime to occur: desire, ability and opportunity. By limiting opportunities for perpetrators to commit crimes, all of us will breathe a little easier. Citizens in every neighborhood deserve to be safe.
FUNDRAISERS SET FOR FREDDIE KING III AND LIEUTENANT GOVERNOR BILLY NUNGESSER
Friends of new District C Councilman Freddie King will be joining him for a debt reduction fundraiser next Wednesday (Jan. 19) at Marché, 914 N. Peters Street.
Lieutenant Governor Billy Nungesser, who is considering a race for governor in 2023, is inviting supporters to an upcoming  Sporting Clays Tournament in Husser, Tangipahoa Parish.
Danae Columbus, who has had a 30-year career in politics and public relations, offers her opinions on Thursdays. Her career includes stints at City Hall, the Dock Board and the Orleans Parish School Board and former clients such as former District Attorney Leon Cannizzaro, City Councilman Jared Brossett, City Councilwoman at-large Helena Moreno, Foster Campbell, former Lt. Gov. Jay Dardenne, former Sheriff Charles Foti and former City Councilwomen Stacy Head and Cynthia Hedge-Morrell. She is a member of the Democratic Parish Executive Committee. Columbus can be reached at swampednola@gmail.com.