On a pleasant spring evening last week, Irish Channel residents Kimberly Terrell and Justin Vittitow met at Parasol's to plan a presentation on the air quality in their neighborhood. They were sitting outside the bar, but soon had to go in. Fumes that had drifted in from across the river were burning their throats, Vittitow said. 
Nearly two years after the City Council passed a resolution in support of Irish Channel residents' efforts to rid their neighborhood of toxic fumes from industry on the Mississippi River in Jefferson Parish, Vittitow and Terrell — members of JOIN (Jefferson, Orleans, Irish Channel Neighbors) for Clean Air — were back in Council Chambers. They spoke Tuesday (March 28) to the Joint Climate Change and Sustainability and Governmental Affairs Committee.
"We still have this. It is ongoing. The fumes are so thick they inundate our entire neighborhood," Vittitow told the council members. "They're so thick that they seep into our homes in the middle of the night. We have parents whose children are regularly going to the ER with migraines that are triggered when these fumes seep into their homes.
"I myself am a parent of a 5-year-old, which means that it's been three years now, over half of her life, that she has lived with an elevated risk of cancer. The amount of stress and anxiety that I feel when the fumes are thick at night and are seeping into her room, I cannot describe to y'all."
Complaints of foul odors in the Irish Channel surged in 2019, according to a 2021 Louisiana Department of Environmental Quality report. That timing coincides with expansion of a petrochemical storage and transfer facility, BWC Harvey (formerly Blackwater Harvey), directly across the river from the Irish Channel. After BWC added tanks for asphalt, the residents who called in often described a strong asphalt, petroleum or tar smell.
"All of these tanks were were approved by the state without any public hearing," Kimberly Terrell told the council members, "without any public meeting, without any involvement from people who live near are affected by them."
BWC is not the only petrochemical company in the industrial strip along the river in Harvey. Neighboring terminals include Buckeye, Kinder Morgan and International-Matex Tank Terminals, which was recently purchased by BWC. The location gives the companies access to truck, rail and deepwater marine transportation.
The problem is that more than 60,000 people, according to an Environmental Protection Agency analysis, live within two miles of the collection of industrial plants whose business involves shipping major pollutants.
The DEQ documented more than 850 complaints linked to BWC Harvey from May 2019 to April 2021, JOIN for Clean Air learned from data obtained through a public records request. Complaints reportedly peak when BWC workers load hot asphalt onto river barges. In 2019, company records show, BWC Harvey loaded more than 162 million gallons of asphalt river onto barges.
After BWC Harvey installed odor-control systems in its truck bay and on its eight asphalt storage tanks in November 2020, the DEQ set up its mobile air monitoring lab at BWC's Harvey terminal for three days. The levels of hydrogen sulfide, carbon monoxide and other toxins were found to be safely below the state's standards, the DEQ report shows. 
Inspectors, however, noticed a "very potent" odor on the first day of monitoring, the report states, but it had subsided by the next day. Workers at nearby plants told the inspectors that the smells diminished with the presence of the air monitoring lab. 
Then, for three weeks in 2021, the DEQ prioritized odor complaints from the Irish Channel, according to a DEQ report, and found only negligible evidence of toxic odors on their hand-held monitors.
"Consistently, the DEQ downplays it," Terrell said. "If they detect an odor, they'll call it a 'light odor.' They say that they dispatched their investigators immediately. But in reality, it takes them an average of four hours to show up. What they're ignoring is that these emissions are coming from loading events. They're not continuous."
An air monitor set up in the Irish Channel in July 2022 found levels of dust and soot and of polycyclic aromatic hydrocarbons, a known carcinogen, above safe levels.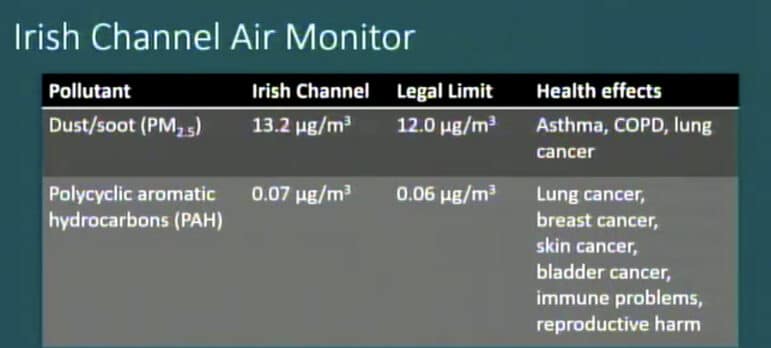 "So our goal today is to inform you all of this issue and to try to start developing a plan for action around this," Terrell said, "because a big part of this is holding the DEQ accountable and making sure that air quality in every part of this city is safe for people to breathe."
The group has been working with District B Councilwoman Lesli Harris, who had invited them to speak to the committee, and with state Rep. Mandie Landry. Council President JP Morrell, a Baton Rouge veteran, suggested they also reach out to the state senators representing the affected districts.
"When I was a House member and I would call departments about an issue, they would say, 'Well, we'll get back to you,'" Morrell said. "When I was a senator and I called the department, they stopped what they were doing and sped to wherever I was."
Vittitow said he's been emailing Sen. Royce Duplessis, who took office in December 2022, but has yet to receive a response. During the presentation, Duplessis contacted Morrell's office to say he would work with JOIN for Clean Air on the issue. The District 5 senator is on the Senate's Environmental Quality Committee.
"The ultimate problem really is that no one should have ever thought it was a good idea to build bulk asphalt storage tanks so close to people's homes," Terrell said. "But there are options for pollution controls on the barge-loading end of things, and that's what we want to push for. And if the company says it's too expensive and it's not feasible, they need to switch their product."
Katherine Hart is the managing editor of NOLA Messenger. She can be reached at khart@nolamessenger.com.