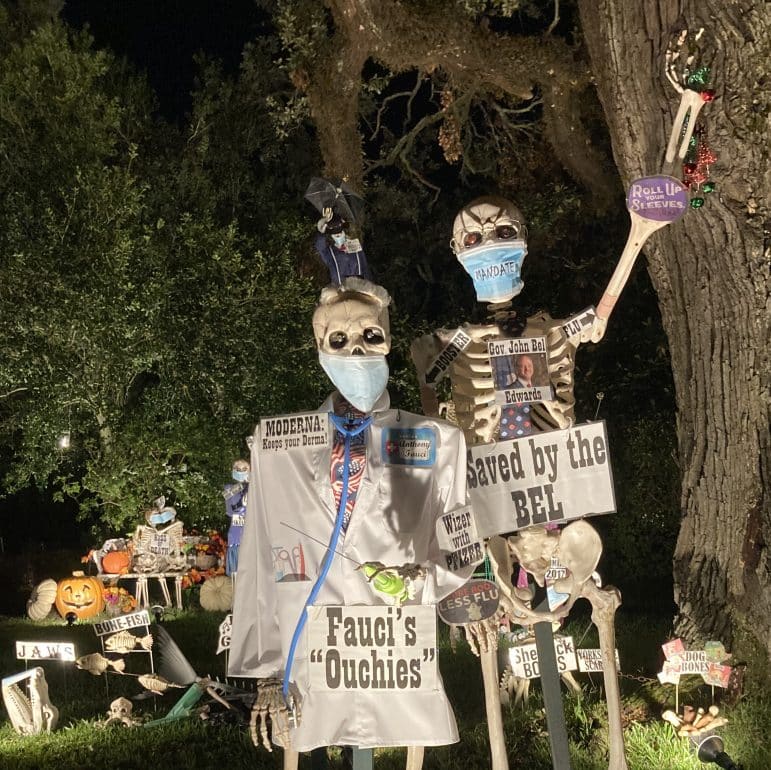 |
Every year in October, if you ride on St. Charles Avenue in the vicinity of the corner of State Street, you will see crowds gathered at the Skeleton House. 
This has become a fixture on the New Orleans Halloween scene. In the front yard – and spilling over onto the sidewalk and up into the trees — are more than 100 skeletons wearing costumes and wonderfully punny labels. The plays on words satirize politicians (John "For Whom the Bel Tolls" Edwards, Bobby Dwindle), celebrities (Dead Astaire, Bone Jovi), and local personalities (TromBONE Shorty, Morris Bat). 
Homeowner Louellen Berger is the brains behind the funny bones, and last year the display came back in full force after the pandemic. Uptown Messenger caught up with some spectators during a beautiful mid-October day. 
Olivia Nolt and her sister, Adrienne Nolt, visiting from Maryland were there among the audience.