In big bold letters on the window of Lionheart Prints' Magazine shop it says, "Kind, Brave, and Fun." Those positive vibes echo throughout the shop filled with laugh-out-loud cards and the perfect nick-nack you never knew you needed. We sat down with Liz Maute Cooke to learn more about her bold designs and her evener bolder business moves.
Name: Liz Maute Cooke
Store: Lionheart Prints
Since: January 2013
What ignited the spark in you to start your business?
It started with a series of career disappointments. When I graduated college in 2008, I realized the dream they sold you in high school to work hard, get through school, and then you'll have a job waiting at the end of the tunnel wasn't true. I majored in advertising, which is the first thing to get cut in hard times, and I couldn't find a position in my field. I worked a lot of random part time jobs at a restaurant, a montessori school, a chocolate shop, and a stationery store. I learned so many different skills that I would have never have pursued if I had gotten that dream job out of college. But I was depressed, I didn't have any friends, I was in a new city [Houston], I felt helpless—it was truly a low point in my life.
At the time, "The Secret" was gaining popularity and I was like, "I have nothing to lose." I liked physics in college and the concept made sense to me—atoms are just vibrations, and if we can control the electromagnetic pulses in our brains it could have a ripple effect on the space around us. So, I tried changing the messages I was giving myself. Instead of being downtrodden I would tell myself in the mirror, "You're great! You got this! You are beautiful, you are talented, you have good things to offer the world, and you are going to go get it." I didn't believe it, but I just kept saying nice things to myself.
Believe me when I tell you, overnight things started to shift. I got a job at Paper Source which was way closer to a dream job than any other job I had had. A few months later, I got an amazing offer to be a one woman creative department for a logistics firm in Kentucky. In the position, I learned about assembly lines, and in hindsight I see how much I implement it into my shop now.
My husband is from New Orleans, and I fell in love with the city, so we were always dying to come back. He got a job here, and I found work at a stationery company. I worked on some high level projects like the Benson Superbowl invitation, but the business shut down two months later. I was crestfallen; I thought this was my career. I cried a lot, but the next day I knew I had to figure out what I was going to do.
I was sitting in my workspace at home and had a lightbulb moment. I literally felt like heaven was calling me. Pandora was playing King and Lionheart by Of Monsters and Men (it's a great anthem), and I was like, "That's it!" The word "lionheart" to me is being brave in the face of adversity, doing what you believe in, and trying to rise above to make your dreams come true. I had looked back on all these past events that seemed random and realized I was put in that space at that moment to do this thing. I took my experience in comedy, improv, graphic design, retail, and assembly lines to create Lionheart Prints. I want to make messages that help people get through tough times because when I started changing the messages I gave myself, my life started transforming too. So I started this business January 13, 2013.
What makes New Orleans businesses so special?
There is a lot of heart, drive, and soul in business owners here. I think New Orleanians know both sides of the coin well. We know how bad things can get, but we also revel in the joy and make fun of things that are messed-up. New Orleanians know how special life is and they do not take it for granted. I see that in business owners, people are taking a chance—you only get this one shot.
Who are your customers?
Now that we're on Magazine, it's a big mix of people visiting town and locals. We have a glittery notebook at the front desk where we write down nice things people say about the store so when things are hard we can remember why we do this. One of my favorites is, "It's like walking into a Pinterest board."
If your shop was a cocktail, what kind would it be?
A traditional daiquiri. It's sweet, a little tangy, refreshing & fun. The best are made of simple ingredients.
Describe your business in a few words.
Clearly I can't! (laughs) We make really cool stuff for the kind, brave, and fun.
How do you define "success" in your business?
I want to spread as much joy on as many selves as possible. I love the fact that we are in the businesses of spreading good vibes. Every single time someone buys one of our cards, it's going to be sent to someone, and they are going to feel appreciated, loved, remembered, empathized or congratulated.
What are your current or any upcoming goals for your business and/or community?
I want to be a New Orleans institution. We have many great components to our businesses including workshops, custom design services, retail, and fun events. We are also working on a podcast which has been such a joy getting to record. We interview people making bold moves in the direction of their dreams. It lights me up and puts a fire in my belly. I feel like our podcasts speak to people who want to take strides and do better for themselves and their community.
What's your favorite local business in your area?
It's tough because there are so many great ones! I would have to say Bleu Blow Dry Bar on Magazine and Bellecastle. Blowouts are my favorite personal luxury. The girls there make it a great experience– they give you champagne and blueberries, plus the products smell amazing. I love Lucy Rose next door, too. They were actually our biggest wholesale account and have always been a huge champion of our business. Also, they're in the French Quarter, but I love Glitter Box! Everyone should follow them on Instagram.
What advice would you give a new business owner?
Don't lose yourself in comparisons. Listen to your inner voice and make sure you're doing it for the right reasons, not because everyone else is doing it. Put one foot in front of the other and take your time. Don't try to be an overnight success. Be an overtime success because slow growth builds strong roots.
Lionheart Prints
3312 Magazine Street
Open 10am–6pm Mon thru Sat
11am–4pm Sunday
(504) 267-5299
lionheartprints.com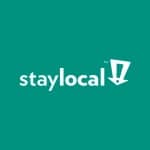 While drainage system improvements and road construction make "shopping local" a bit more challenging in the short term, the critical improvements mean our city will be safer and stronger for generations to come. We hope you are inspired and continue to shop small and shop local—even if it takes a little extra time!
The Shopkeeper Stories are brought to you by StayLocal, the Greater New Orleans independent business alliance, in partnership with Uptown Messenger. Learn about their work or become a member at www.staylocal.org or email info@staylocal.org.