Hinge Salon is the new business on the block, but they bring a world of experience and inspirational passion to their cozy space. Owners Billy Miller and Rachel Reed have been working in the industry for over 30 years combined and decided to open their Magazine Street salon to focus on their clients needs. They seek to be a resource and help their clients create savvy fashion choices that makes them feel great.
Name: Billy Miller and Rachel Reed
Store: Hinge Salon
Founded: June 2017
What ignited the spark in you to start your business?
Billy: When I came back to New Orleans after the storm I knew salons would be reopening and building their teams. I set forth to create a hub to train and prepare stylists to be on the floor in a few months. That training "school" concept didn't quite work out so we opened up a teaching salon called Urban Angels in 2006. We had a lot of fun with it!
After about 8 years, I wanted to further my education so I shut down Urban Angels and moved to California for two years. When I came back to town (basically I missed New Orleans) I wanted to do something more geared toward the client. How this salon really came together is a "great experience of accident." I ran in to Rachel, who I had known since she first moved to New Orleans 7 years ago, and we started looking for a small space for just two people.
Rachel: It was a miracle we found this place! When we found it, we knew it was the perfect fit. Billy and I went old school New Orleans with the decor to give the space that "housey" feeling.
How did you come up with the name?
Billy: We went for weeks and had pages and pages of ideas! What we were looking for was something that has a foreign appeal like from London, Paris or Barcelona. The salon names abroad are modern and relevant to the purpose of their existence.
Rachel and I decided to go with "Hinge" for a few different reasons. One was it's a strong name and represents how we connect to our clients. We support and anchor our clients down, as well as build a connection with them. Second, at the same time we were thinking about the name, we heard a podcast that spoke about a "hinge movement." The younger generation seems to be using it as a term meaning "to reinvent, to recreate yourself"–positive notions of rebuilding– and I was like, "man that's really perfect!"
The name relates to what we do. Yes, we ask you what you like but what it comes down to it, I have the training to know what is going to work on your bone structure, on your face, and look best. We recreate people and bring out their inner personality and beauty. To me hair is the greatest accessory. You wear it everyday; it should be transitional, flourish, and have multiple movements to create new looks.
Who are your customers?
Rachel: I have had a loyal clientele for 7 years that ranges from doctors and lawyers to students and artists– it's all over the board!
Billy: What draws people to us, I think, is personality and image. People from all genres and psychographs are drawn to Rachel because she is personable and genuine. At some hair companies you have to act a certain way and wear all black but here it's real, it's down to earth. We aren't afraid to be honest and people respect our opinion because of that.
What makes New Orleans businesses so special?
I think for one New Orleans businesses run very successful operations without the business controlling them. Also, I've worked all over and do feel the relationship built between a business and their customers is much more personal here.
If your shop was a cocktail, what would it be?
I would say whiskey ginger. It's strong, it's got a little spice. It also helps you have a good time while settling your stomach– a mix of fun and practical.
How do you define success in your business?
In this business success is consistency, honesty, and challenging yourself to be better everyday. Also be aware what people are wearing, how people are acting, what the mood is, and what new trends are coming to New Orleans. I feel like if you can pay attention and zone into these things you can create a very successful life for yourself. You don't have to make all this money– I don't feel like success is anything about that. Success is being true to yourself, having a great clientele, and being down to earth.
What are your current and upcoming goals for your business?
Billy: We are looking to work with other salons and invite stylists to come experience our space. Our goal is to build a strong hair community to teach and learn from each other.
Rachel: We also showcase artists, photography, painting, and jewelry in our space. Why not help others grow? We want to create a hub where someone can show their work and it also brings a greater experience to our clients.
Describe your business in a few words.
Modern and unique. We define ourselves through defining you. There is no staple- we customize our work to our guests. It's handcrafted looks, everyone has their own twist.
What's your favorite local biz in your area?
We love all the businesses in the surrounding area! We go to Basin for seafood and love Edgar Caro's new Colombian steakhouse, Brasa on Metairie Road. The other store we go to a ton in this area is Funky Monkey. We do a lot of photoshoots and events, and can always find the perfect pieces.
What advice would you give a budding business owner?
Before you start putting your business together– what to order, where to set up shop, how to decorate it– the first thing that will make you succeed with any business is having a clear purpose of existence. I've never had a business fail, and I had my first business at 12 years old. Set your purpose of existence and use your ethics to build around that idea. No matter the business if you stick to those two things, your purpose and your ethics, you will have success.
Hinge Salon
 3329 Magazine St
(504) 304-3221
facebook.com/hingesalon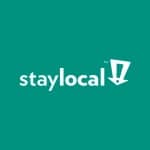 While drainage system improvements and road construction make "shopping local" a bit more challenging in the short term, the critical improvements mean our city will be safer and stronger for generations to come. We hope you are inspired and continue to shop small and shop local—even if it takes a little extra time!
The Shopkeeper Stories are brought to you by StayLocal, the Greater New Orleans independent business alliance, in partnership with Uptown Messenger. Learn about their work or become a member at www.staylocal.org or email info@staylocal.org.