Greater New Orleans' citizens are arguably the most flexible people in the country. We take turns with our fellow drivers on narrow cobblestone streets, we know the secret route to get to our house during parade season, and boil water advisories keep us on our toes. These are just a few quirks that make us curious to outsiders and unite us as New Orleanians.
Another reason for us to band together is coming to a road near you! We will be facing drainage system improvements and road construction for the next five years. Funds from FEMA as well as our Department of Public Works have been designated and projects have been mapped through 2019 and we need to stay flexible (as we do) in the name of long-term infrastructure improvements!
Along with those experiencing personal inconveniences and dissatisfactions, our local businesses on these routes are taking a hard economic hit. New Orleans' businesses need to feel our support and the impact of local dollars now at this critical time of business disruption because they are the backbone of our city's culture, economy and character.
The Shopkeeper Stories series shares the vision and personality of New Orleans business owners. We hope you are inspired and continue to shop small and shop local – even if it takes a little extra time.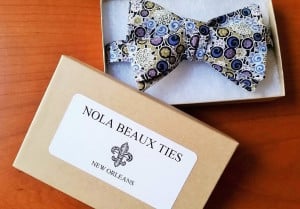 Dave Holt
NOLA Beaux Ties
Since 2015
What ignited the spark in you to start your business?
The whole business started because of a Chihuahua wearing a bow tie. A friend moved here from Nebraska to become a teacher and she had a little Chihuahua who wore a black bow tie and it just blew my mind. So we googled how to make a bow tie, found a pattern, and my grandmother's Singer sewing machine was up in the attic – which I had never used. I didn't know if it would work or not but when we got it out, it not only worked, but it was already threaded and the light still worked! So we made a couple bow ties for our dogs and some for me. Here I am two and a half years later with Nola Beaux Ties and making a lot of bow ties!
What makes New Orleans businesses so special?
The number one thing is that there are so many family owned and operated businesses here. One of my fascinations with New Orleans is the architecture. You can have a block of homes and retail businesses side by side – that's unusual in the United States. It probably goes back to the days when shopkeepers had stores in the front of their building and they lived in the back or the first floor was a store and they lived upstairs. There are so many small businesses that are owned by the person behind the cash register and you get to know them. I frequent the same stores, mostly on Magazine Street near my home, and I know the owners and say "Hey, how's your mom'en'nem?"
There are chain stores here and I go to them too but I always try the alternative first. At Christmas time, for example, I do all my shopping on Magazine Street. All my nieces and nephews have Dirty Coast t-shirts because every year for Christmas gifts I walk there and buy them t-shirts! They all have five or six Dirty Coast t-shirts and they're always waiting for the next one!
If your shop was a cocktail, what would it be?
A sazerac!
What's your favorite local biz on Magazine Street?
Zèle. It's a new artist co-operative. Twenty or thirty local artists sell their art or paintings or jewelry. For artists like me, going to festivals or outdoor markets is a lot of work and is not always worth it. Stacy saw me at a market, invited me to join, and I've been there since it opened five or six months ago. It's really turned my business around and now I sell more there in a month than I sold everywhere else combined. I have to give her credit! She repurposed an old warehouse and it's beautiful. And, she is very supportive of local artists.
Will you share your secret lunch or dinner spot?
Lunch–Guy's Po'Boys! Marvin, the owner, had Katrina damage and re-opened; then he had a fire and re-opened. Now a month ago a pick-up truck drove right through his front door and dining room.  He's closed and rebuilding again! He will be back open! And so will all the regulars.
I love Joey-K's for dinner. I'm not a fancy eater. I loved my mom's cooking and my grandma's cooking and Joey-K's is like that – home cooked. They have meatloaf! They call you darlin', sweet pea, and honey and I love that.
For coffee, I'm a PJ's addict. I do a lot of work at PJ's – they have great coffee.
What advice would you give a budding business owner?
Plan on not making any money for at least the first two years. If you think you're going to make money the first year you open – you are in trouble! I didn't take a dime out of NOLA Beaux Ties for the first two years. Everything I make I reinvest in materials, fabric, and my website. Now I'm finally selling the volume where I can buy larger quantities of supplies and lower my cost.
What stores carry your bow ties?
Zèle– 2841 Magazine Street
Branch Out– 2022 Magazine. I like them because they sell only sustainable locally made products. I use only 100% cotton fabrics – a renewable resource. I buy as many of my supplies locally as I can. We put solar panels on our house and we are now net zero. As far as I know, I'm the first net zero bow tie company! We used Joule and they were great!
Bywater Clothing– 4432 Magazine. Jo-Ann is NOLA Girl shirts. She's been around forever!
Dirty Coast– they are wonderful people!
Parcels and Post– I ship everything from there and Heidi has a little shelf with some of my bow ties.
Gallery 220 in Bay St. Louis.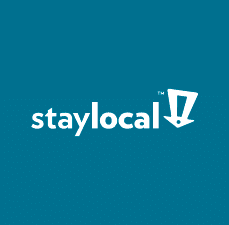 The Shopkeeper Stories are brought to you by StayLocal, the Greater New Orleans independent business alliance, in partnership with Uptown Messenger. This new series runs every first and third Tuesday of the month. StayLocal is devoted to raising the visibility and viability of locally-owned businesses across New Orleans through marketing, advocacy, and education. Learn about their work or become a member at www.staylocal.org or email info@staylocal.org.