The Louisiana Museum Foundation presents The Baroness de Pontalba and the Rise of Jackson Square hosted at the Cabildo
Cabildo Costume Ball will honor Pontalba legacy with Charles-Edouard and Isabelle, Baron and Baroness de Pontalba, from le château de Mont-l'Évêque, December 1, 2018!
The Louisiana Museum Foundation is excited to launch our Inaugual Founders Ball. The celebration will be another one for the history books that we know you won't want to miss!
Limited tickets left for Saturday, December 1, 2018, as the inaugural Founders Ball in the Cabildo will open the Louisiana State Museum's final tricentennial exhibition featuring Charles-Edouard's forebears, the preeminent late 18th  century New Orleans philanthropist, Don Andrés Almonester and his daughter, Micaela Almonester, Baroness de Pontalba, who greatly contributed to our city 50 years later in the mid-19th century.
The heart of our city, Jackson Square can be credited to two individuals: the Baroness, for her namesake apartments; and her generous father for rebuilding the Cabildo, Presbytere, and St. Louis Cathedral after the 1788 fire. The Baroness de Pontalba was also instrumental in transforming the muddy military parade ground, once known as the Place d'Armes, into the beautiful Jackson Square, which is to this day the most iconic and visited part of Louisiana.
The exhibition held at the Historic Cabildo (700 Chartres Street) will feature our baroness's family treasures, publicly exhibited for the first time from the family's ancestral château located about forty miles north of Paris.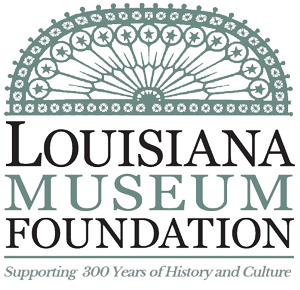 Ball guests will be the first to see Micaela's official portrait from the Chateau, 19th century Odiot silver, crystal, bronze doré objects, and white and gold Sèvres porcelain, all displaying the Almonester-Pontalba family crest, and elaborately scripted family initials similar to the monogram that adorns the cast-iron balustrades on the galleries of our Pontalba Buildings.
The Ball will feature a fabulous feast, exquisite period-inspired cocktails and entertainment reminiscent of the parties that our Baroness Micaela de Pontalba held in her Paris mansion, which she built on rue du Faubourg Saint-Honoré. (Today, this property serves as the official residence of the United States Ambassador to France and is still known as the Hôtel de Pontalba.)
Guests are encouraged to attend in late-18th-century to mid-19th-century attire, recalling the days of Don Almonester and the Baroness, or today's black tie and ball gowns.
Space is limited in the Cabildo, so purchase your tickets here while you can!
This truly is a once in a lifetime event, as the last time a Baron and Baroness de Pontalba visited was over fifty years ago when the current baron's parents made the grand tour.
The Founders Ball Co-Chairs are Catherine and Semmes Favrot & Caroline and Murray Calhoun. For more information, call 504-558-0493, email info@thelmf.org, or check out www.thelmf.org.