The all-day Lundi Gras festivities culminate with two spectacular parades, one a study in old-world elegance and another in contemporary opulence.
National Weather Service tells us that clouds will roll in after a mostly sunny Lundi Gras, and patchy fog is expected after dark. The night will remain mild, with lows around 62.
Krewe of Proteus
Presenting the second oldest parade in the Carnival lineup, the Krewe of Proteus adheres to tradition just it adheres to the chassis it has been using since the 1880s, when it was formed as an offshoot of the mystic krewes of Momus and Comus. It stopped parading for six years in the 1990s, returning to the streets again 1999.
Proteus was a primordial deity in Greek mythology, the protector of the seas, rivers and other bodies of water. According to Homer, he was the master and herdsman of sea monsters and sea animals. He could foretell the future, but would change his shape to avoid having to; he answered only to those capable of capturing him.
This year's theme celebrates an epic poem based on Finnish mythology describing the creation of the earth. The tale will be told on 20 elaborately designed floats carrying 230 male riders.
Starts: 5:15 p.m. from Magazine and Napoleon
Theme: "Kalevala, Lore of Finland"
Watch for: The king rides in distinctive seashell float. The U.S. Marine Corps Band adds to the Proteus sound track.
Catch it if you can: Throws include LED flambeaux and plush crowns.
Krewe of Orpheus
When the superkrewe of Orpheus first paraded in 1994, its 700 riders broke a New Orleans Carnival record. Now you can expect about 1,500 male and female riders on 40 floats; one float alone, the eight-unit Smoky Mary, holds 230 riders. Orpheus is consciously nonexclusive.
A musical krewe co-founded by Harry Connick Jr., Orpheus is named for a mythical figure whose lyre-playing was so beautiful the trees bent to hear it. Luckily, the branches of the live oaks along St. Charles Avenue are naturally bent.
Starts: 6 p.m. (follows Proteus) from Napoleon and Tchoupitoulas
Theme: "Dark Dictums of Childhood"
Look for: Actor Darren Criss and singer Joey Fatone will reign over the Orpheus parade. The krewe's signature floats include Leviathan, Trojan Horse and the Smoky Mary.
Catch it if you can: Riders will throw hand-decorated tambourines.
Recycling
In 2022, 1,150 tons of Carnival parade trash were transported to the landfill in just 11 days. In other words, that's 2.5 millions pounds of waste each year. Residents can help ease the pressure off our waste stream system by taking advantage of the following recycling options:
"Recycling Hubs" for cans, beads and glass collection can be found at:
Sacred Heart Academy, St. Charles Ave. & Napoleon Ave.
New Orleans & Company, St. Charles Ave. & Josephine St.
Greater New Orleans Foundation, St. Charles Ave. & Harmony Circle
Gallier Hall, St. Charles Ave & Lafayette St
Ten stationary "Can Stations" for aluminum can collection only are stationed between Napoleon Avenue and Louisiana Avenue.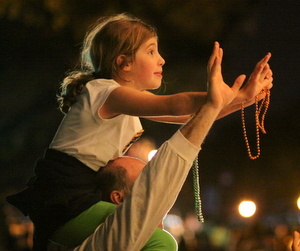 You can check the parade's location on the city's Parade Tracker. Find additional information about Mardi Gras parades at ready.nola.gov/mardi-gras. Text MARDIGRAS to 77295 for updates from the city.
See here for information on parking, driving and getting around. See here to find out where to find out where the porta-potties are located.