Four parades will roll through Uptown today and tonight (Feb. 19) — all back on their traditional routes. The Krewe of Thoth will be celebrating its 75th anniversary on its idiosyncratic Uptown route.
The daytime parades will roll under mostly sunny skies, with a high near 65. For Bacchus tonight, it will be partly cloudy, with a low around 55 with a southwest wind 5 to 10 mph, according to the National Weather Service.
Krewe of Okeanos
The Krewe of Okeanos was formed in 1949 to give its downtown neighborhood a Carnival parade of its own. Okeanos rolled on St. Claude Avenue before joining other krewes on the Uptown route. The parade's 24 floats carry about 350 male and female riders.
The krewe is named for a Greek proto-god who controlled the world's first oceans and waterways, including a river that encircled the Earth.
Starts: 11 a.m. at Jefferson Avenue and Magazine Street
Theme: "Festivals of the World"
Watch for: Vince Vance is riding as the 2023 Okeanos grand marshal.
Catch it if you can: Crawfish trays, hand-decorated sand dollars and branded sand pails are among the signature throws.
Krewe of Mid-City
The Krewe of Mid-City's 17 floats are decorated entirely in bright tinfoil, just as they were when the krewe first paraded in 1933. It is the only krewe to use this tinfoil technique.
The fifth-oldest continuously parading organization in New Orleans, Mid-City was the first to use animation in float designs. Its early motion was achieved by volunteer Boy Scouts concealed inside the floats working several mechanisms, including pedaling stationary bikes to turn cables and gears on external devices.
Like Okeanos, the Krewe of Mid-City began as a neighborhood parade. It rolled through its namesake neighborhood until 2002, when most Mid-City parades moved Uptown so the city could consolidate security in the aftermath of Sept. 11.
Starts: 11:45 (follows Okeanos) on Jefferson and Magazine
Theme: "Louisiana's Bounty"
Watch for: The signature City Park float pays homage to the krewe's roots.
Catch it if you can: The krewe throws Elmer's CheeWees, cheese curds in tinfoil bags.
Krewe of Thoth
For its 75th anniversary ride, the Krewe of Thoth returns to its traditional altruistic route — designed to pass in front of Children's Hospital and other institutions that care for people who could not otherwise experience a Carnival parade.
When Thoth started parading in 1948, it had 50 members on five floats. It now rolls with more than 2,000 men on 41 floats, including 16 tandems.
Starts: Noon at State Street and Tchoupitoulas. Follows Mid-City on St. Charles Avenue route.
Theme: "Diamond Jubilee"
Watch for: David Cook of the Yat Pack is the grand marshal. A float used in the inaugural Thoth parade will make an appearance as the Diamond Jubilee title float.
Catch it if you can: In addition to special anniversary throws, Thoth throws a large assortment of items, including Thoth Sunday T-shirts, Thoth fedoras and Thoth socks.
Krewe of Bacchus
The Krewe of Bacchus is known for its spectacular floats and its celebrity monarchs. Its more than 1,500 members ride in 33 animated super-floats, to the tune of more than 30 marching bands.The krewe's signature floats include the Bacchasaurus, Bacchagator and Bacchawhoppa.
Bacchus has its roots in New Orleans' hospitality industry. It was the brainchild of restaurateur Owen Brennan Sr., who wanted more visitors included in the city's Carnival activities. The purveyor of fine wines decided in 1949 to start a krewe named for Bacchus, the Roman god of wine and fertility, and open it to out-of-towners.
Twenty years later, and nearly 15 years after Brennan's untimely death, Bacchus began rolling on the Sunday before Mardi Gras under the leadership of his son Owen "Pip" Brennan Jr. Breaking ranks with more than a century of Carnival tradition, the krewe has a national celebrity reign over the parade. Its groundbreaking first ride paved the way for the New Orleans superkrewe.
Show up around 4 p.m. to the line-up spot at Tchoupitoulas Street and Napoleon Avenue to catch the Battle of the Bands.
Starts: 5:15 p.m. from Tchoupitoulas and Napoleon
Theme: "Throw Me Something, Mister!"
Watch for: Actor Adam Devine is Bacchus LIV. The Bacchatality float carries members of the city's hospitality industry.
Catch it if you can: Logo throws include toothbrushes, bandages, silicone pint glasses, socks, selfie lights and light-up shoelaces.
Recycling
In 2022, 1,150 tons of Carnival parade trash were transported to the landfill in just 11 days. In other words, that's 2.5 millions pounds of waste each year. Residents can help ease the pressure off our waste stream system by taking advantage of the following recycling options:
"Recycling Hubs" for cans, beads and glass collection can be found at:
Sacred Heart Academy, St. Charles Ave. & Napoleon Ave.
New Orleans & Company, St. Charles Ave. & Josephine St.
Greater New Orleans Foundation, St. Charles Ave. & Harmony Circle
Gallier Hall, St. Charles Ave & Lafayette St
Ten stationary "Can Stations" for aluminum can collection only are stationed between Napoleon Avenue and Louisiana Avenue.
Recycling volunteers will be distributing free collection bags for Mardi Gras beads along the Uptown parade route on St. Charles Avenue from Napoleon Avenue to Poydras Avenue during the Uptown day parades.
Volunteers will the collection bags ahead of the first parade each day and follow the last day parade to collect filled bead bags.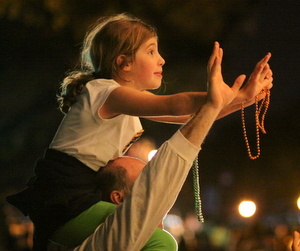 You can check the parade's location on the city's Parade Tracker. Find additional information about Mardi Gras parades at ready.nola.gov/mardi-gras. Text MARDIGRAS to 77295 for updates from the city.
See here for information on parking, driving and getting around. See here to find out where to find out where the porta-potties are located.