The sun is expected to shine on today's Uptown parades, Iris and Tucks. The Krewe of Iris, after all, has a special relationship with the goddess of the skies. The sun will warm the chilly temps, but only into the mid- to upper-50s, according to the National Weather Service.
During the Krewe of Tucks parade, however, expect a steady rain of toilet paper to fall over the route.
The Iris parade begins on the lakeside of St. Charles Avenue, traveling five blocks along Napoleon. Tucks follows along St. Charles after beginning  on the river side, from Tchoupitoulas Street and Napoleon.
Krewe of Iris
The Krewe of Iris, founded in 1917 and parading since 1959, is the oldest and largest of the women's krewes. Its membership continues to grow with more than 3,440 for this year's parade, putting it in the superkrewe category.
Its floats keep growing as well. All of its 34 floats are tandem, and some are triple tandem, giving the krewe 71 units. The krewe has been nesting during the pandemic; it purchased land on Earhart Boulevard. and built itself two dens for all those floats.
As the namesake of both a popular garden perennial and the Greek goddess of the rainbow, Iris can't help but have a colorful and cheerful parade. Iris in Greek mythology is also, like Hermes, a messenger of the gods, which must be where the krewe gets its storytelling skills.
Starts: 11 a.m. on Napoleon Avenue and South Saratoga Street
Theme: "Iris Soars to New Heights""
Watch for: The popular Krewe of the Rolling Elvi and the Amelia EarHarts are among the walking groups. Riders wear hand-painted masks.
Catch it if you can: The day parade named for the rainbow goddess decorates sunglasses as its signature throw. It was the first krewe with a line of branded sustainable throws such as toothbrushes, soap, red beans and coffee. You could also catch a tutu, cape or fanny pack from the Iris riders.
Krewe of Tucks
The "Animal House" krewe started by some college kids 50-plus years ago has not lost its irreverence or its energy.
The Krewe of Tucks annually takes toilet humor to new heights, flinging toilet paper above the crowds on St. Charles Avenue. Tucks' 36 super-sized floats carry 1,800 male and female members with one requirement: to put on a good show.
Starts: Noon (follows Iris) at Tchoupitoulas and Napoleon.
Theme: "Tucks Can't Drive 55"
Watch for: Signature floats include the King's Throne, featuring a giant toilet; Ye Royal Bath, with a slide into a giant hot-tub; and Ye Funky Tucks, a three-float tandem with cage dancers.
Catch it if you can: Hand-decorated toilet brushes and plungers are the signature Tucks throws. You may also catch squirting toilets, toilet paper and toilet sunglasses.
Recycling
In 2022, 1,150 tons of Carnival parade trash were transported to the landfill in just 11 days. In other words, that's 2.5 millions pounds of waste each year. Residents can help ease the pressure off our waste stream system by taking advantage of the following recycling options:
"Recycling Hubs" for cans, beads and glass collection can be found at:
Sacred Heart Academy, St. Charles Ave. & Napoleon Ave.
New Orleans & Company, St. Charles Ave. & Josephine St.
Greater New Orleans Foundation, St. Charles Ave. & Harmony Circle
Gallier Hall, St. Charles Ave & Lafayette St
Ten stationary "Can Stations" for aluminum can collection only between Napoleon Avenue and Louisiana Avenue.
Recycling volunteers will be distributing free collection bags for Mardi Gras beads along the Uptown parade route on St. Charles Avenue from Napoleon Avenue to Poydras Avenue during the Uptown day parades on Saturday and Sunday.
Volunteers will the collection bags ahead of the first parade each day and follow the last day parade to collect filled bead bags.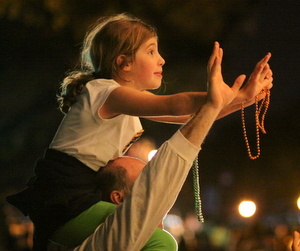 You can check the parade's location on the city's Parade Tracker. Find additional information about Mardi Gras parades at ready.nola.gov/mardi-gras. Text MARDIGRAS to 77295 for updates from the city.
See here for information on parking, driving and getting around. See here to find out where to find out where the porta-potties are located.