The key to a good Mardi Gras Day is getting up early. There is so much fun to be had — don't miss a minute.
And before you go out, put on a costume. It could just be a mask, a silly hat, a cape, something sparkly, feathers, glitter. Mardi Gras is not just a spectator event. You're part of it, too.
The weather promises to be warm — one of the warmest on record. The National Weather Service predicts some patchy fog between 7 a.m. and 10 a.m. Otherwise, it will be partly sunny, with a high near 80 and southwest wind 10 to 15 mph.
Have a safe and happy Mardi Gras, y'all!
Zulu Social Aid and Pleasure Club
One reason the Zulu parade is so entertaining — even if you don't catch a coconut — is that its riders are clearly enjoying themselves.  Add in some of the city's top bands and imaginative floats — and Mardi Gras morning could not better than this.
Zulu has one of the more individualistic routes, starting off in Central City and ending up at its headquarters at Orleans Avenue and North Broad in Mid-City.
The Zulu king is chosen by a democratic vote of the krewe's 1,500 members, as are the signature characters. The all-male krewe has about 1,500 riders on 44 floats.
Starts: 8 a.m. at South Claiborne and Jackson
Theme: "Precious Jewels of Zulu Land"
Watch for: Each of Zulu's eight characters — the Big Shot, Witch Doctor, Province Prince and Mr. Big Stuff, has its own float and its own throws.
Catch it if you can: The krewe hands out about 60,000 hand-decorated coconuts.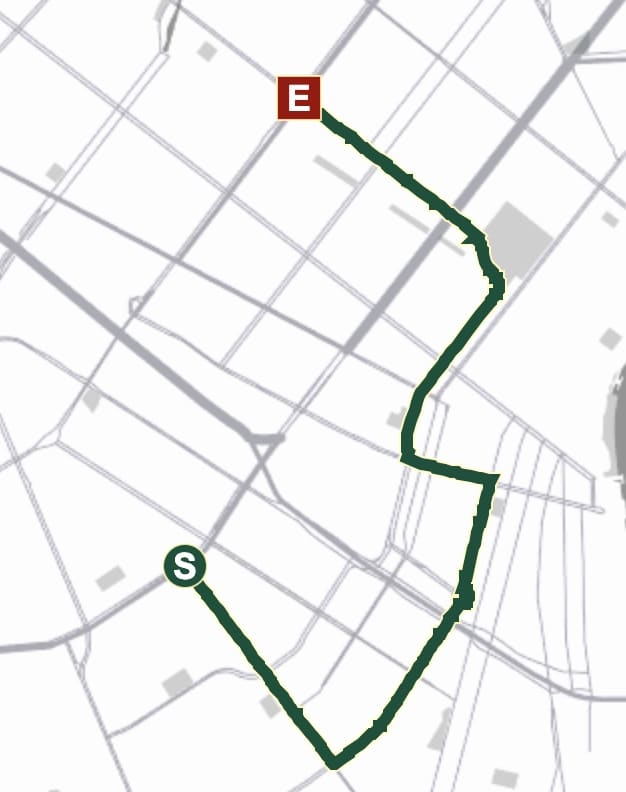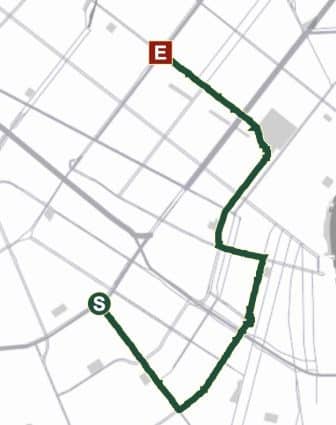 Route:
START: Jackson Ave. and S. Claiborne Ave.
Left on Jackson Ave.
Left on St. Charles Ave.
Proceed on St. Charles Ave. around Harmony Circle.
Left on Poydras St.
Right on Loyola Ave.
Proceed on Elk Pl.
Proceed on Basin St.
Proceed on Orleans Ave.
END: N. Broad St. and Orleans Ave.
Rex Organization
Rex helps define Carnival in New Orleans. Its king, Rex, is the king of Carnival. He holds the key to the city for a day, handing to him by the mayor in a Lundi Gras ceremony.
The krewe's colors — purple, green and gold — are the colors of Carnival. And its parade is the crowning glory of Mardi Gras.
Officially the School of Design, Rex began parading in in 1872. This parade will be the krewe's 141st. It's learned how to do it right.
Starts: 10 a.m. at South Claiborne and Napoleon Avenue
Theme:"Palio di Siena"
Watch for: The Rex signature floats, built on old wooden wagons with wood-spoked wheels, provide some of the classic images of Carnival.
Catch it if you can: Some Rex riders have returned to throwing the classic glass beads.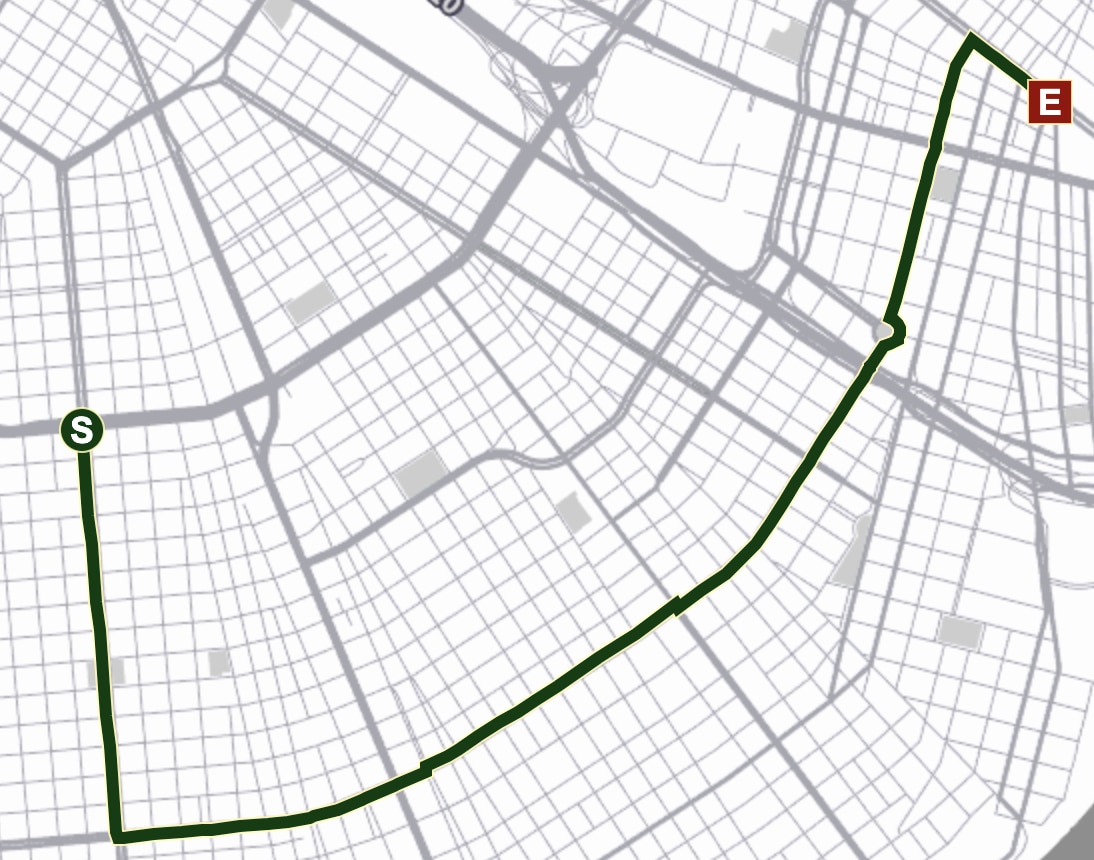 Route:
START: Napoleon Ave. and S. Claiborne Ave.
Proceed down Napoleon St.
Left on St. Charles Ave.
Proceed on St. Charles Ave. around Harmony Circle.
Proceed on St. Charles. Ave.
Right on Canal St.
END: Canal St and S Peters St.
Walking clubs
The walking clubs come out on Mardi Gras, although they are less predictable than the traditional krewe parades. So they always add to the excitement and spontaneity of Mardi Gras.
One walking group that's in a class and a culture onto itself: the Mardi Gras Indians. If you're lucky and savvy, you can catch one of the Uptown tribes in Central City.
Along the standard parade route, revelers are likely to catch the Half-Fast Walking Club, which starts out early at Commander's Palace, often followed by the Krewe of Drunken Whores, before it heads to St. Charles Avenue which it takes into the French Quarter.
This club was started by legendary clarinetist Pete Fountain and his friends in 1961. Although Pete passed away in 2016, his band of merry men continues on, following a route, unchanged since the mid-1970s.
One of the more colorful of the Uptown marching clubs is Mondo Kayo, founded on the premise that New Orleans is the northernmost banana republic. It celebrates the music and the dancing of our southern neighbors, and the members' colorful costumes are designed to please the Tiki gods.
You may be lucky enough to catch the New Orleans Baby Dolls. These groups have resurrected a street masking practice formed during the early days of "jass." Shake dancers from New Orleans' Uptown district or "Back o' Town" neighborhood costumed themselves as doll babies in bold and risqué style regalia and paraded on Mardi Gras Day.
You may also run into the the Jefferson City Buzzards or the Lyons Carnival Club. The Buzzards are the oldest of the Uptown marching clubs, dating back to 1890. They start out in Audubon Park on Mardi Gras.
The Lyons Club, organized in 1945, is based in the Grits Bar, on the corner of Lyons and Annunciation.
Krewe of Elks Orleans, Krewe of Crescent City
The Krewe of Elks Orleans follows Rex with individually designed truck floats carrying 4,600 riders. And the Krewe of Crescent City, the last parade of the season, follows Elks with 2,500 riders.
Each truck represents a different Carnival organization, often family or neighborhood groups, with its own title and theme. This tradition goes back to the 1930s as a way to give more people a chance to participate in a Mardi Gras parade (it worked).
Watch for: The krewes have competitions each year for the Best Float in the parade. Decide which float you would choose.
Catch it if you can: If you haven't caught enough throws yet, now is your chance.
Route:
START: 10:30 a.m. (follows Rex) S. Claiborne and Napoleon avenues
Left on Napoleon Avenue
Left on St. Charles Avenue
Proceed on St. Charles Avenue around Lee Circle
Left on Poydras Street
END: Poydras & Loyola streets
Recycling
In 2022, 1,150 tons of Carnival parade trash were transported to the landfill in just 11 days. In other words, that's 2.5 millions pounds of waste each year. Residents can help ease the pressure off our waste stream system by taking advantage of the following recycling options:
"Recycling Hubs" for cans, beads and glass collection can be found at:
Sacred Heart Academy, St. Charles Ave. & Napoleon Ave.
New Orleans & Company, St. Charles Ave. & Josephine St.
Greater New Orleans Foundation, St. Charles Ave. & Harmony Circle
Gallier Hall, St. Charles Ave & Lafayette St
Ten stationary "Can Stations" for aluminum can collection only are stationed between Napoleon Avenue and Louisiana Avenue.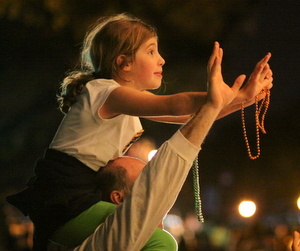 You can check the parade's location on the city's Parade Tracker. Find additional information about Mardi Gras parades at ready.nola.gov/mardi-gras. Text MARDIGRAS to 77295 for updates from the city.
See here for information on parking, driving and getting around. See here to find out where to find out where the porta-potties are located.