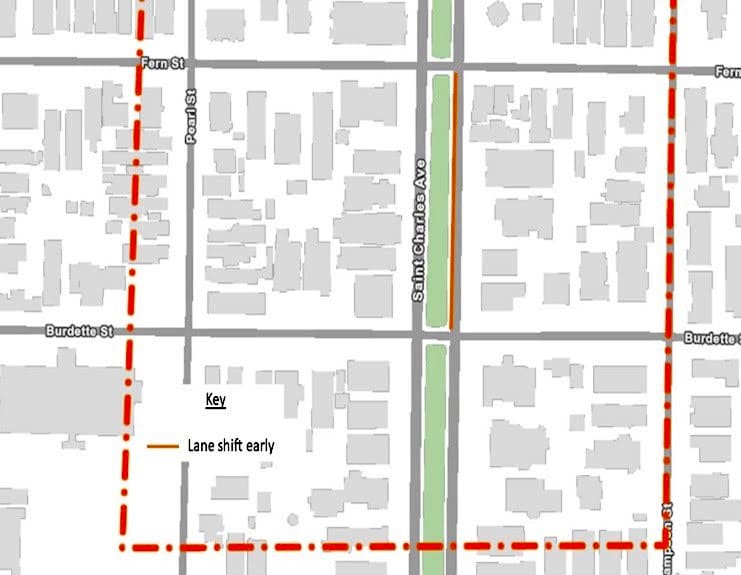 The city will close the westbound lane of 7700 and 7800 blocks of St. Charles Avenue beginning Friday (Feb. 3) at 7 a.m.
This lane shift will last for approximately four weeks, according to the Mayor's Office. The roadway will remain open in both directions on St. Charles Avenue outside of the detoured lane.
Vehicular traffic will be shifted to the parking lane. Signage will be in place around the impacted area.
Department of Public Works contractor Infinity Construction, in close collaboration with the Sewerage & Water Board, will insert a water line standpipe in the roadway to chlorinate a new water line.
This work is a part of the Black Pearl Group B infrastructure improvement project. The Black Pearl Group B project was designed by Jacobs Engineering and is being constructed by Infinity Construction.
The scope of work varies by block but includes repairing sewage, water and drainage lines, rebuilding the street entirely and repairing sidewalks and curbs. In general, the contractor is working from 7 a.m. until sunset, Monday through Friday. The entire project is scheduled to be completed by the spring of 2023, weather permitting.
Visit roadwork.nola.gov for more information. Questions about this project or RoadworkNOLA should be directed to 504.658.ROAD (7623) or roadwork@nola.gov.
To sign up for updates, text ROADWORK to 77295 or go to ready.nola.gov/alerts to create a profile and select the "roadwork" alert list.