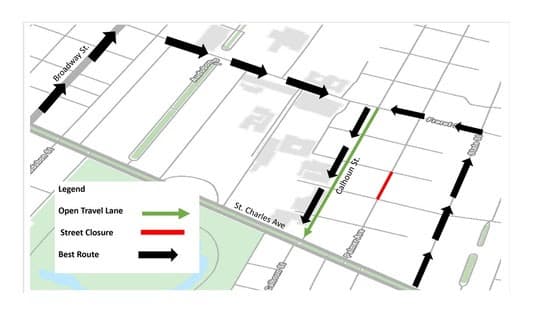 Palmer Avenue will be partially closed between Loyola Avenue and Freret Street for about three months beginning Tuesday (Sept. 5), the Mayor's Office announced Friday.
Crews will be completing subsurface utility repairs and roadway restoration.
Construction crews will begin the work in the 1800 block of Palmer Avenue and will progress toward the 2000 block, ending at Freret Street. During construction, crews will work on one block at a time, requiring a partial road closure.
This closure is expected to continue until Dec. 1 at 5 p.m. Residents and businesses in the area will be updated every 30 days, according to a press release.
Signage and traffic control measures, such as barrels and fencing, will be onsite to direct drivers and pedestrians. Motorists are advised to use caution during this time, as road closures and detours will be in effect.
Residents and businesses in the impacted area will be notified of the closure through a neighborhood canvassing effort, and crews will provide as much access as possible during this closure.
The work is part of the $10.5 million Isaac Wave Drainage Project, which involves removing, replacing and repairing existing water and drainage lines in areas throughout the city. Roadway repaving will also be completed as a part of this work.
The project is expected to be completed by the spring of 2024.The Department of Public Works construction contractor for the project is Murphy Pipeline Construction LLC.
Visit roadwork.nola.gov for more information. Questions about this project or RoadworkNOLA should be directed to 504-658-ROAD (7623) or roadwork@nola.gov.