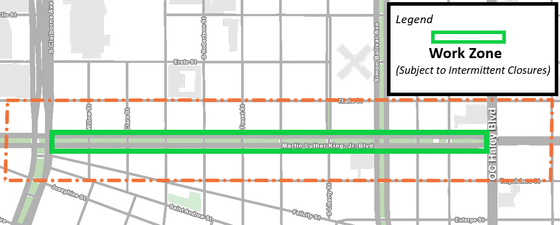 Drivers can expect intermittent lane closures on Martin Luther King Jr. Boulevard from South Claiborne Avenue to Oretha Castle Haley Boulevard from Wednesday (June 21) through Friday of next week (June 30), as crews apply asphalt paving to the roadway.
Motorists are advised to use caution during this time as the lane closures will occur across the closed parking and travel lanes. The street will reopen to traffic at 5:30 p.m. each day (see map.)
Signage and traffic control measures, such as barrels and fencing, will be onsite to direct drivers and pedestrians. Vehicles must be moved off the street before Wednesday at 7 a.m. The Department of Public Works asks that residents adhere to no parking signage on the streets. Vehicles parked in these zones will be ticketed and towed.
The $4.8 million Martin Luther King Blvd. (St. Charles – South Claiborne) – Patch Mill Overlay project is scheduled to be completed summer 2023, weather permitting. Click here to view the community meeting presentation and map of the project.
For more information, go to roadwork.nola.gov, call 504-658-ROAD (7623) or email roadwork@nola.gov.