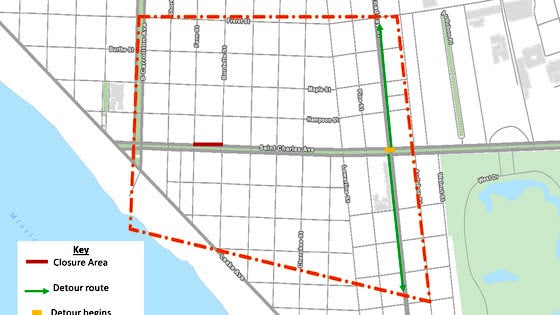 The westbound lanes of St. Charles Avenue from Burdette Street to Fern Street will be temporarily closed beginning at 7 a.m. on Monday (Feb. 270. The closure will last for approximately four weeks to accommodate a waterline tie-in and roadway restoration work as part of the Black Pearl Group B construction project.
The road closure is expected to remain in effect until Friday, March 24 at 5:30 p.m. Signage and traffic control measures, such as barrels and fencing, will be onsite to direct drivers and pedestrians.
The City of New Orleans today announced that  Department of Public Works (DPW) contractor,  LLC, will temporarily close the westbound travel lanes of
During this temporary closure, crews with Department of Public Works contractor Infinity Construction and Trucking will be continuing the waterline tie-in at the 7800 block of St. Charles Avenue, which will extend into the intersection. Immediately following the waterline work, crews will begin restoring the roadway.
Westbound travel lanes on St. Charles Avenue will be rerouted onto Broadway Street where drivers can turn right onto Leake Avenue and continue to South Claiborne Avenue (see map). Residents and businesses in this area were notified of the closure through a neighborhood canvass.
The $5.1 million Black Pearl Group B project was designed by Jacobs Engineering Group and is being constructed by Infinity Construction and Trucking. The scope of work varies by block but includes repairing sewage, water and drainage lines, rebuilding the street entirely and repairing sidewalks and curbs.
In general, the contractor is working from 7 a.m. until sunset, Monday through Friday. The entire project, originally projected to be completed in late 2021, is scheduled to be completed by the spring of 2023, weather permitting.
According to a Mayor's Office press release, Public Works has completed 147 projects with an estimated value of $536 million. Currently, 52 roadwork projects are under construction cross the city with an estimated value of nearly$601 million.
For more information, visit roadwork.nola.gov. Questions about this project or RoadworkNOLA should be directed to 504-658-ROAD (7623) or roadwork@nola.gov.