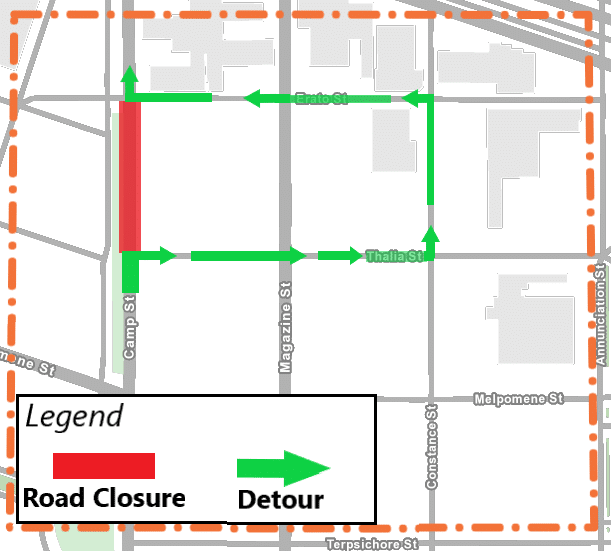 The eastbound travel lanes of the 1200 block of Camp Street will be closed from today (June 21) through July 17 to perform roadway repairs and restoration work as part of the Central City Group B project.
During this time, traffic heading downtown on Camp Street heading will take a detour at Thalia Street. Drivers will be rerouted onto Thalia Street, then will continue onto Constance Street and be directed to take a left turn onto Erato Street, where traffic can return eastbound to Camp Street (see map).
Signage and traffic control measures, such as barrels and fencing, will be onsite to direct drivers and pedestrians. Motorists are advised to use caution during this time, as road closures and detours will be in effect. Residents and businesses in this area were notified of the closure through a neighborhood canvassing effort.
The $18.4 million Central City Group B project was designed by GreenPoint Engineering and is being constructed by Fleming Construction Co. Click here to view the community meeting presentation and map of the project. The scope of work varies by block but includes repairing sewage, water and drainage lines, rebuilding the street entirely and repairing sidewalks and curbs.
In general, the contractor is working from 7 a.m. until sunset, Monday through Friday. The entire project is scheduled to be completed by the summer of 2023, weather permitting.
For more information, visit roadwork.nola.gov, call 504-658-ROAD (7623) or email roadwork@nola.gov.