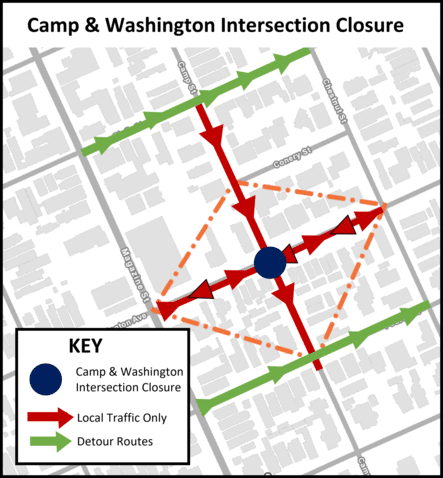 The intersection of Washington Avenue and Camp Street will be closed to vehicular traffic beginning Monday (March 20) at 7 a.m. The closure is expected to last about six weeks.
Crews from Department of Public Works contractor Hard Rock Construction will be doing subsurface utility repairs.
The intersection is scheduled to reopen by 5 p.m. on Friday, April 28. Traffic control measures such as barrels and fencing will be onsite to direct drivers and pedestrians.
The $12.5 million Camp Street (Louisiana Avenue to Washington Avenue) Infrastructure Improvement Project calls for repairing and/or replacing sewer and drainage lines. The project is scheduled to be completed in the late spring, weather permitting.
Visit roadwork.nola.gov for more information. Questions about this project or RoadworkNOLA should be directed to 504-658-ROAD (7623) or roadwork@nola.gov.