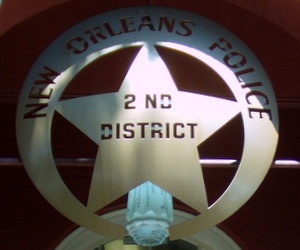 The recent robbery of a business owner as he approached a South Claiborne Avenue bank to make a deposit could be related to similar incidents elsewhere in the city, police officials told residents Tuesday amid updates on various cases around Uptown New Orleans.
The victim had parked and was walking up to the Capital One branch near Calhoun with a bag on his back containing deposits from his business when a stranger ran up and tried to grab the bag away, then pulled a gun as they struggled, police said at the time. That pattern has been seen elsewhere in the city, Lt. Chuck Little said Tuesday during the monthly meeting between Second District officials and community members.
More specifically, similar robberies have been reported in the Lakeview-based Third District and the Seventh District, which covers New Orleans East, Sgt. Chris Billiot has said. In those cases, the suspect was seen running to a black Dodge Charger — though no vehicle was noticed in the Claiborne Avenue case.
Tuesday's meeting also included questions and answers about other recent incidents around Uptown. To read our live coverage, click in the box below.