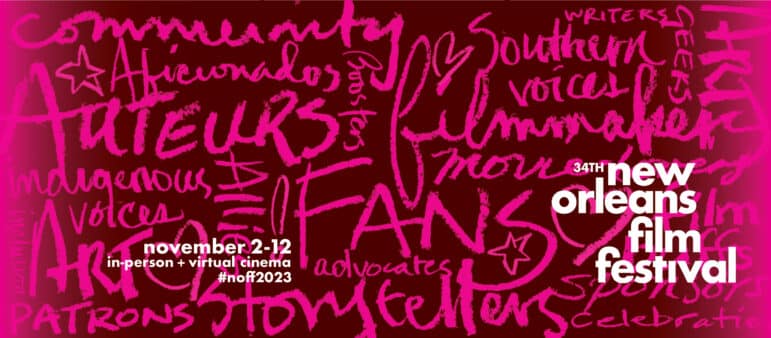 By Jeanne D'Arcy, Uptown Messenger
The 34th New Orleans Film Festival will screen films at the Prytania Theater Uptown presenting a wide variety of films, most of which cannot be seen any other way. NOFF opens on Nov. 2 and closes Nov. 7.
The festival will showcase films at four venues, including the Prytania Theater Uptown, 5339 Prytania Street. The majority of the lineup will also be globally accessible via NOFF Virtual Cinema between Nov. 2 and Nov. 12. 
The Prytania Uptown will be the location of 16 films in eight screenings, including the opening night film Música! The Uptown venue will present a total of four Narrative Features, three Documentary Features, and one program of nine short films. 
The festival presents both curated films — selected from new releases and other chosen films available for screening — plus a rigorous competitive division, comprised of submissions mostly by filmmakers themselves. 
This year, the New Orleans Film Society, the nonprofit that presents the festival, received 3,900 competitive submissions from 117 countries. A team of programmers selected 127 films in competition representing a wealth of perspectives. These include 29 feature films; 19 are documentaries and 10 are narrative features. There are 98 short films, with 25 world premieres, nine U.S. premieres, 40 Southern premieres and 49 Louisiana premieres.
Overall, movies from filmmakers based in the American South represent 60% of the lineup, and Louisiana-made films represent 22%. The directors of selected films represent 35 different nationalities. Films directed by women and non-binary directors account for 60% of the lineup; films helmed by directors of color make up 60%; and films from directors identifying as part of the LGBTQ+ community account for 41% of selected films.
In addition to Narrative Features and Documentary Features, there are programs of shorts films, curated into packages for the audience: Narrative Shorts, Documentary Shorts, Animated Shorts and Experimental Shorts.
According to festival organizers, the must-see films at the Prytania Uptown include:
Opening Night, Música!, 73 minutes, Thursday, Nov. 2, 7:30 p.m. 
Academy Award-winning filmmakers Rob Epstein and Jeffrey Friedman (Linda Ronstadt: The Sound of My Voice, Taylor Mac's 24-Decade History of Popular Music) produced this documentary about Cuban student musicians who learn to maintain their instruments with the likes of the Preservation Hall professionals.
See here for more on the film. To be shown again at the Prytania Canal Place 2 on Monday, Nov. 6 at 12:30 p.m.
 American Fiction, 117 minutes, Saturday, Nov. 4, 5  p.m. 
American Fiction is Cord Jefferson's directorial debut, which confronts our culture's obsession with reducing people to outrageous stereotypes, starring Jeffrey Wright and Issa Rae.  
Gumbo: Louisiana Shorts, 93 minutes, Sunday, Nov. 5, 2:15 p.m. 
This mix, or gumbo, of nine Louisiana documentary shorts offers a variety of storytellers who explore activism and social change. It will be shown again at the CAC on Monday, Nov. 6 at 2:30 p.m.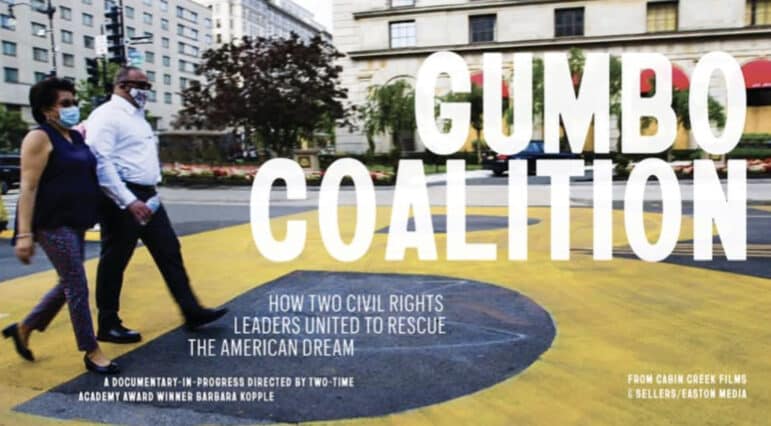 Gumbo Coalition, 112 minutes, Sunday, Nov. 5, 5 p.m.
Gumbo Coalition follows two civil rights leaders, former Mayor Marc Morial, who heads the Urban Leauge, and Janet Murguía, president and CEO at National Council of La Raza, as they work to empower African American and Latino American communities through three turbulent years in the U.S. Directed by two-time Academy Award-winner Barbara Kopple, the film looks at the lives and history of these two activists and their missions to create social justice. 
Director Barbara Kopple and Marc Morial will be in attendance.
Born To Fly, 96 minutes, Sunday, Nov. 5, 7:45 p.m. 
By the age of 4, Mondo Duplantis was a child prodigy, a Louisiana native chasing the perfect jump. By 21, he became the greatest pole-vaulter of all time, breaking world records and winning Olympic Gold. The film presents Duplantis' drive and ambitions as he navigates life.
All Dirt Roads Taste of Salt, 97 minutes, Monday, Nov. 6 at 7:30 p.m.
This film won South Pitch Narrative in early stages of development in 2019, and then went on to premiere at Sundance Film Festival in 2023. This feature debut from award-winning poet, photographer and filmmaker Raven Jackson is a haunting and richly layered portrait of a woman's life in Mississippi. 
The New Orleans Film Festival is one of only a couple dozen or so in the country that has an "Oscar Qualification." That means that any short film or documentary that wins an audience award can be considered in the upcoming year for an Academy Award, without the standard theatrical run, provided the film otherwise complies with the Academy rules.
The film festival screening schedule and film guide are now available online at neworleansfilmfestival.org. In-person screenings will take place at the Prytania Theatre Uptown, the Prytania Canal Place 1 and 2, The Broad Theater 4 and the Contemporary Art Center Black Box.
Festivalgoers can purchase passes (including an All Access Pass good for priority entry to in-person screenings, the NOFF Virtual Cinema, parties and receptions, panels and other events) or purchase individual tickets for each screening.
All festival transactions will be contactless. Cash or check payments will not be accepted; acceptable forms of payment include credit and debit cards and Apple and Google Pay.