The movers and shakers of Louisiana including quite a bit of New Orleans, and more than a few hundred Uptowners recently descended on the nation's capital to celebrate the annual Washington Mardi Gras.
"If a bomb dropped on this ballroom tonight, Louisiana as you know it would cease to exist," said one of the organizers at the Saturday night ball. Leaders of business, law partners, CEOs, congressmen, congresswomen, mayors, senators and the governor of Louisiana, John Bel Edwards, were all present.
The yearly three-day event dates back to 1944 and has been led by the Mystick Krewe of Louisianians since 1957. "What began as a demonstration of the spirit of Mardi Gras" has grown into a celebration of Louisiana, its politics and its people," per the krewe's website.
The event places the state's influential people together in a convivial atmosphere where alliances are formed, deals are made  and uproarious fun is had. I was seated at Mayor Cantrell's table, who was working so hard on behalf of her constituents she missed most of the formal dinner the second evening.
Networking aside — and there is a lot of networking — the event is a knockout celebration of Louisiana culture, music and food. Chefs and their restaurant staffs travel to D.C. from almost every Louisiana parish to serve the state's culinary traditions to the attendees.
There are copious amounts of gumbo, grits, hot sauce, Gulf shrimp, Louisiana oysters, and even oyster shuckers brought to D.C. for the event. I'd hazard that several long-bed trucks filled with boxed king cakes made the trip across the Potomac. All are consumed to the tunes of imported brass and jazz bands from New Orleans.
The result is a weekend of feasting, drinking, revelry, pageantry, dancing till the wee hours, second-lines, kings, queens, floats and even throws. There were more princesses on hand in the corridors and elevators of the Hilton than in every European kingdom combined.
Mary Patricia Hymel Piper, a former queen of Hermès and now a north shore fitness director and personal trainer, participated in the pageantry in 1979. "I was a princess in the Washington ball in college. It was a lot of fun," said Piper.
Each year the Saturday night ball honors the formality of the traditional Mardi Gras ball. The evening begins with the time-honored presentation of the court, debutantes, call-out dances, favors and lieutenants.
Then D.C. Mardi Gras's 2019 King, Ray Brandt, paraded through on a mini-float with his queen. The royal court of masked revelers followed tossing toys, cups and beads to the thousand-plus in the massive ballroom of the Washington Hilton.
A Louisiana school marching band looped through the audience several times and performed as if they were marching down St. Charles Avenue. They were followed by the president's personal Marine Corps band marching through the ballroom with a spirited rendition of "When the Saints Go Marching In."
A raucous chorus of "Who dat, who dat, who dat say dey gonna beat dem Saints?" followed the Marines with cheers as confetti filling the air.
A procession of the state's parish and industry queens in their tall sparkling tiaras followed. The young ladies wore satin gowns with trains and brought their respective crowns and sashes to Washington, D.C.
Among many others, Miss Creole Gumbo was in attendance, as was Mrs. Catfish, Miss Oil & Petroleum, Miss Gonzales Jambalaya, Miss Bogalusa Paper Queen and Miss Queen Cotton.
What followed was a party that only New Orleanians and Louisianians could throw and appreciate. To say that Louisiana shook the hotel to its foundation would not be an understatement, especially in a town where most parties start at 7 p.m. and end quietly at 9. One congressman, who will not be named, had a blast as he joined the orchestra to play a rousing 20 minutes of washboard Zydeco.
The hotel, which annually hosts the celebration, renames its lobby bar the 65th Parish in honor of the Louisianans who take over the hotel. Employees of the hotel, not surprisingly, share that the event is their favorite. All wore Mardi Gras beads and carried gifts of king cake home nightly. The staff stated that the attendees of Washington, D.C., Mardi Gras are the most friendly, generous and appreciative crowd they host each year.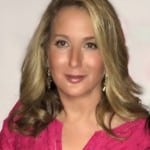 Kristine Froeba is a fourth generation Uptown girl whose varied background includes food and travel writing, celebrity ghost writing, public relations, social media management, fundraising, preservationist, reluctant tabloid hack, and litigation specialist. She describes herself as part foodie, part writer, part historian, historic renovation zealot, and full time dabbler.