Saints Feasts, Playoffs, and homemade King Cake!
Can we get a #WhoDat?
The Black and Gold are back in the playoffs, and locals are talking about more than just Kamara's yardage. What's cooking this Sunday is a hot topic as New Orleanians plan to watch the game from home. Viking's fans can have their frozen chicken wings, brat dogs, and bagged chips, but the Ain'ts aren't having it.
Saints fans have oiled the jambalaya pots, chilled the Abita, and connected the gas-line to the burner. Epiphany's passing the week before the playoffs guarantees King Cakes are ordered—or better yet, about to be baked. Yes, it's crawfish and King Cake season in NOLA.
One local, Gerald Duhon, takes his Saint's game day fandom and enthusiasm to a higher level. For ten years, Duhon, a self-taught cook, has hosted and prepared 15-course made-from-scratch gourmand meals for 60 of his dearest friends.
A FIFTEEN COURSE MEAL FOR 60 PEOPLE – EVERY GAME!
Duhin, 50, is the executive director of Cafe Reconcile, formerly at the New Orleans Second Harvest Food Bank. He cites his first Saints game in 1972 as the beginning of a life-long love. In fact, he has only missed about six game day feasts in the last decade. "It's a great way to cheer the Saints while staying connected to the people I care about but may not see on a regular basis," said Duhon.
"The first season of #saintscooking took place the season after the first NFC Championship appearance—Drew's second year. Once we started talking about it on social media, it took on a life of its own," said Duhon.
Indeed, his labor of love and now well-known #saintscooking has a loyal Twitter fan following. Duhon posts photos of various steps in the preparation of the courses along the way. It's a fascinating pictorial tutorial on local cooking, humor, and kitchen organization. His Twitter handle is @Gerald_Duhon.
Food prep tweets start to appear in the wee hours pre-game, and Duhon explains the process takes about 13-14 hours. "Start time is 1 or 2 a.m.," said Duhon. "I bake first, desserts and breads, then appetizers, soup, salad, main courses, and finally sides."
And, yes, he bakes his own King Cake.
Duhon prefers John Folse's recipe with a few tweaks to the icing. "The big changes I make are to color my own sugars, and I use cinnamon extract (not ground cinnamon) to keep the glaze white," said Duhon.
Chalkboards outline the courses. "Menus are often shaped weeks in advance and fine-tuned the week of a game. Very little prep takes place during the week—usually stock and ice cream are made. Fridays are for final menus and a grocery list," said Duhon.
"Saturdays are stops at Crescent City Farmer's Market, Hollygrove Market and Farm, Chris' Specialty Meats in Lakeview, and finally Dorignac's. Then, of course, everything needs to be put away, ice chests packed, and baking items set out to get to room temperature."
"It's a great creative outlet and hobby for me. I love to cook and entertain. And when the Saints play well, it makes the day really fun," said Duhon.
#Saintscooking is popular with more than just foodies and football fans. Followers state that the idea exemplifies the New Orleanian's unique passion for community, shared cooking, and innate joie de vivre. What are your game day meal plans and traditions? Sound off below! #WhoDat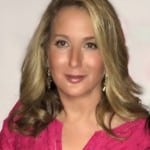 Kristine Froeba is a fourth generation Uptown girl whose varied background includes food and travel writing, celebrity ghost writing, public relations, social media management, fundraising, preservationist, reluctant tabloid hack, and litigation specialist. She describes herself as part foodie, part writer, part historian, historic renovation zealot, and full time dabbler.