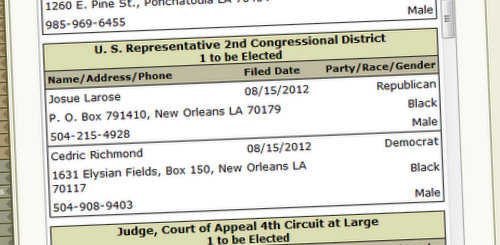 A host of prominent New Orleans Republicans said this week that they have never heard of the lone challenger so far to U.S. Rep. Cedric Richmond, Josue Larose, who filed to run as a member of their party on Wednesday.
But the hard-to-find candidate shares a name and a former address with a perennial candidate in Florida the political press there dubbed "Super PAC Man," whose thousands of alleged campaign-finance violations and hyperactive registration of odd political action committees drew the tongue-in-cheek "admiration" of political prankster Stephen Colbert.
"Not familiar"
Little information is available locally about Larose. The Secretary of State's website only lists him as having filed Wednesday using a Mid-City post-office box as his address and identifying himself as a black male Republican. Multiple calls Thursday to the phone number listed with his filing went unanswered, and messages left at the voice mailbox there were not returned.
No property in the city is registered under the name "Josue Larose," according to the city website, and he is not listed as a member or agent of any corporations in the state, according to the Secretary of State's corporation database.
Furthermore, a number of local Republicans contacted for this article said they had never heard of him.
"That name is not familiar to me whatsovever," said former Republican City Councilman Jay Batt, who added that he would have expected any Republican Congressional hopeful to reach out to the party.
"That doesn't sound familiar at all," said Sarah Roy, chair of the Greater New Orleans Republicans.
Andre Menzies, who described himself as one of the "few and far between" black Republicans in New Orleans, said he would have known if a fellow black Republican planned to challenge Richmond, but had never heard of Larose.
Betsy Stoner, secretary of the parish Republican executive committee, was monitoring the filing in preparation for the party's endorsement meeting next month, and when she saw the unfamiliar name, "I was just as surprised and shocked as anybody else," she said.
Staffers in Richmond's office likewise said they had never heard of Josue Larose, and when asked for a comment about his candidacy, issued a statement from campaign manager David Morris generally stating that the Congressman is "focused on running a strong race."
"Not homegrown"?
Larose was one of only two candidates so far this cycle to file for Congress by mail rather than by appearing at the Secretary of State's office in person, said public information officer Brandee Patrick. In his registration paperwork, however, Larose is listed as registering for the first time Aug. 8 of this year with his previous residence as 929 SW 15th Avenue in Deerfield Beach, Fla. — the same address used by a man named Josue Larose to form committees to run for President, U.S. Senate and the state legislature, according to Federal Election Commission records.
In Florida, Larose's gubernatorial campaign garnered 121 votes, but he also racked up charges of more than 2,000 violations of election law that each carry fines of up to $1,000 for a total potential of $2 million in fines, according to a report in the Sun Sentinel. The Larose in Florida formed 40 political parties (including the American Imperialists Political Party) and 330 political action committees ("Billionaire Josue Larose's Best Friends Committee"), the Sun-Sentinel reported.
The same Larose also moved on to Super PACs, the new federal committees that can raise unlimited amounts of money, creating 60 of the 240 such committees ("Bloomingdale's Department Store Customers Super PAC") that had been created in the entire country when ProPublica wrote about him late last year. In May, that burst of political entrepreneurship drew the attention of Stephen Colbert, whose experiments with Super PAC have long been a theme of his show on Comedy Central:
Efforts to reach the Larose in Florida were likewise fruitless. The phone number he listed on his own federal filing forms did not connect, and calls to a number listed for his treasurer, Valencia St. Louis, were answered by people who said they'd never heard of Larose or St. Louis.
Whether Richmond's challenger is the same candidate from Florida or some sort of imposter using the same name and previous address will likely make little difference on Election Day, Menzies predicted.
"If he's not homegrown, he's got no shot of beating Cedric Richmond," Menzies said. "That gentleman has a better chance of being king of Rex."