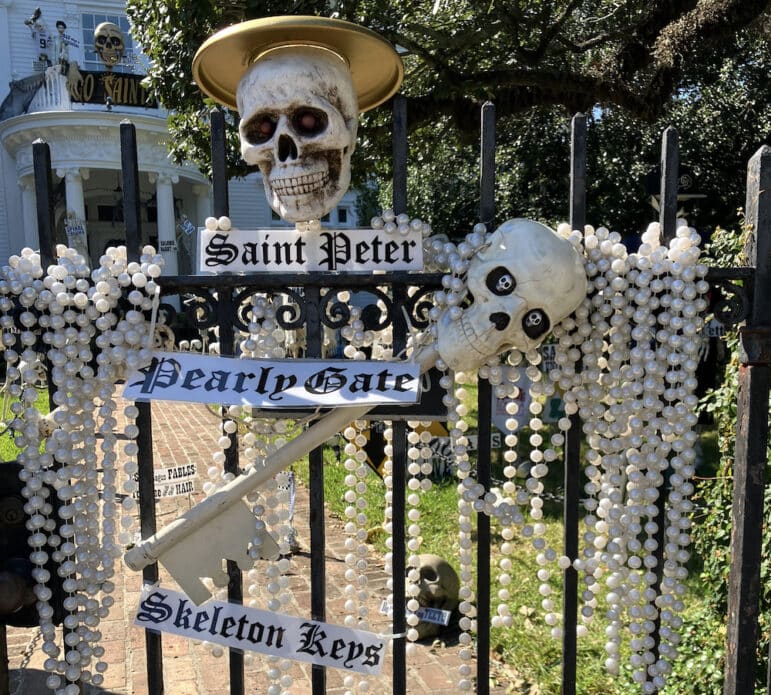 By Jeanne D'Arcy, Uptown Messenger
Once again, the queen of ghostly puns has pulled off a Halloween extravaganza on St. Charles Avenue. Crowds gather and a line of cars slows down to see the Skeleton House at 6000 St. Charles Ave., the creation of homeowner Louellen Berger. 
The skeleton krewe is an established fixture on the New Orleans' Halloween scene. There's local satire, like the "Scourge and Water Board" on an orange cone in the street, and the "Corpse of Engineers." New this year are the "Pearly Gates," Berger's own front gate draped in long pearls, better known as Mardi Gras beads.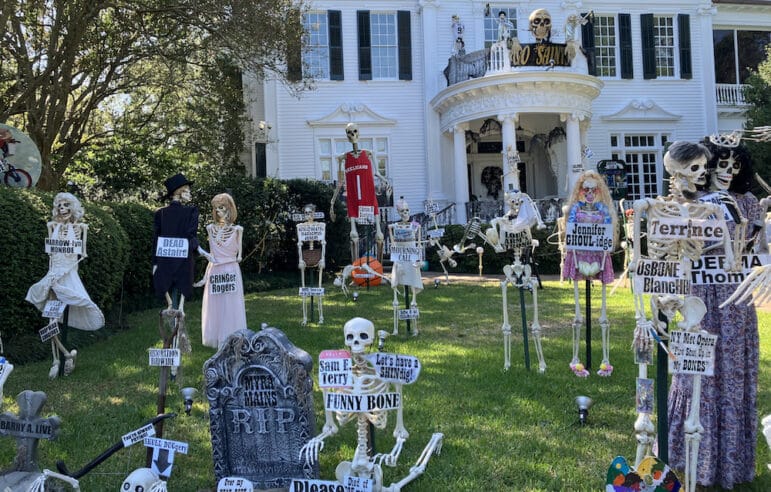 In the front yard – and spilling over onto the sidewalk and up into the trees — are more than 100 skeletons wearing costumes with wonderfully punny labels. There's a special section for "Local EYE Cons" with a large eyeball as the "eye."
It includes living notables like Derma Thomas, Jennifer Goul-idge, and TromBONE Shorty. Morris "Bat" is up in a tree, "One fall, that's all."  And there's an oversized "Skelican," a nod to the New Orleans' basketball team, and the sign suggesting that Zion will lead them to a winning season next time.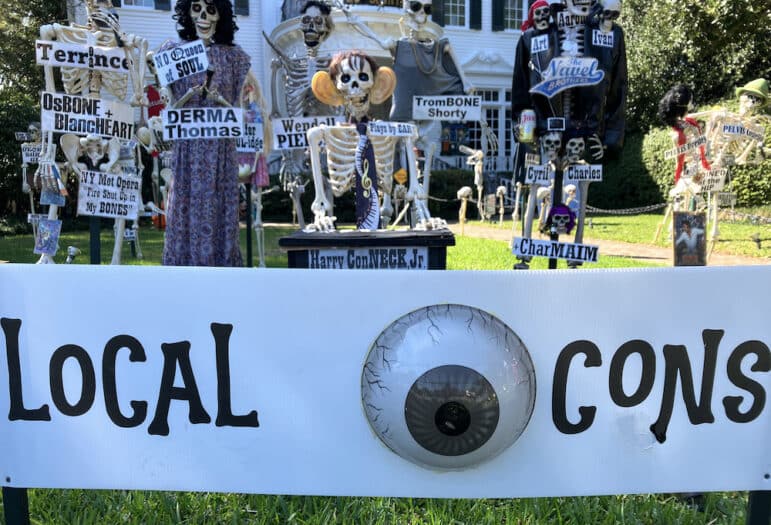 Among the spectators during a beautiful mid-October day was Tricia Kennedy, who lives in Metairie. She has been coming to see the Skeleton House every year since it was first decorated as such. "I had something else to do nearby, so I stopped to see the Skeleton House again this year. I have brought my children, then my grandchildren, and even my 92-year-old mother-in-law," she said. "These jokes really cover the gamut!"
Martha Williams was there while visiting from Cottleville, Missouri, with her 11-year-old daughter, Avery. Williams said she loves the creative names. Avery especially liked the Disney characters. "There is nothing like this at home! Maybe one skeleton, but not hundreds," she said. And she added with a laugh: "We live in St. Charles County, so we have a connection with St. Charles."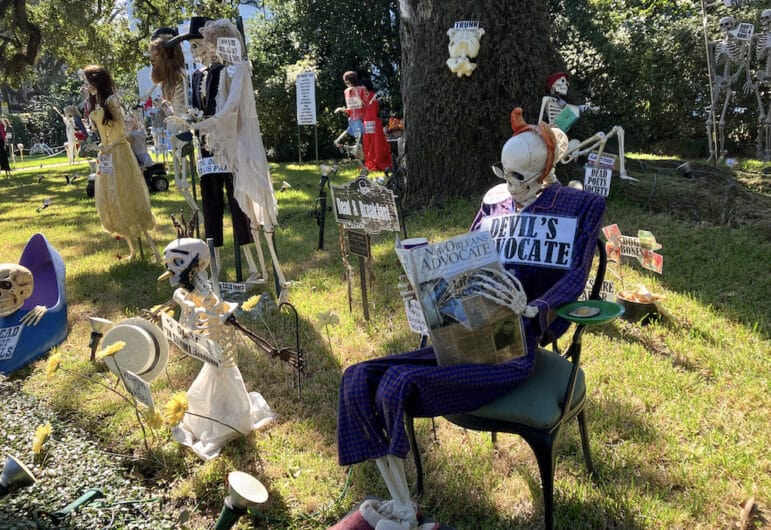 There are skeletons in the trees, walking the fence and out onto State Street — "Lying in State (Street)." They are coming out of the ground, twirling and gesturing. The crowds appreciate there really is nothing else like this.
A couple of skeletons has even migrated to the next-door neighbor's yard. There are two skeletons in Jazz Fest chairs that are the "Ghouls Next Door."
And what would a Halloween spectacular skeleton display in New Orleans be without "Go Saints" and a large skull, perched on the balcony over the front door, looking down on the entire scene? 
The Skeleton House can be viewed day or night. For more on the Skeleton House, visit it on YouTube, Instagram or Facebook.