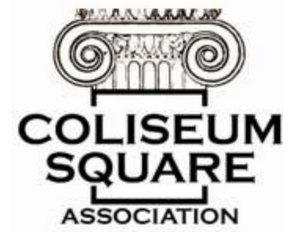 The Coliseum Square Association will hold a crawfish boil Saturday to raise money for structural repairs to the park's fountain.
More details, via email:
Keep the Fountain Flowing
Stop under the oaks of Coliseum Square,
enjoy a pile of crawfish and a frosty beverage with your neighbors,
and help keep our beautiful fountain flowing.
In 2006 the Coliseum Square Association oversaw the restoration of the fountain and ever since a dedicated volunteer fountain team puts in more than 150 volunteer hours a year to keep the majestic plume flowing. In addition the association spends roughly  $1600 a year in chemicals and maintenance – none of which is covered by the city.
Now our lovely fountain needs structural maintenance and we need your help to pay for it. The repairs aren't cheap…
So, we hope you will join us for spicy crawfish, cold beverages and good company under the oaks of Coliseum Square to help the Coliseum Square Association keep the fountain flowing…
Where: Coliseum Square (Race Street side under the oaks)
When: Saturday, May 19th2012
Time: 4pm to 7pm
Donation: $20 per person
Please bring your children, but leave the pets at home.