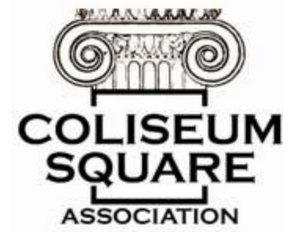 Over its 40-year history, the Coliseum Square Association has played a major role in the revitalization of the Lower Garden District, so its voice should be respected when it comes to development proposals that might affect it, City Council candidate Eric Strachan group told the group Monday night — in comments that drew a range of responses from other council hopefuls, from strong agreement to a dose of skepticism.
In about a 10-minute presentation at the association's monthly meeting, Strachan spoke of his lifelong involvement with the group. His parents were among its founders, and growing up he participated in events such as the annual home tours. Later, Strachan served on the association board himself.
In the past, the park at Coliseum Square was a dumping ground for used needles and condoms, and gunfire was a nightly sound in the neighborhood, Strachan said. Crime remains an issue, but the progress in the Lower Garden District over the years has been "amazing," Strachan said — in large part due to the work of the association. Now that the neighborhood is much more attractive to developers, it would be a shame to give up that progress to someone who wants to exploit it, Strachan said.
"I will fight tooth and nail for any neighborhood that feels threatened by poor zoning, poor planning or poor city resources," Strachan said.
The role of neighborhood associations in city government and their impact of their voice is a consistent undercurrent to many public-policy and land-use debates around Uptown and the city as a whole. Councilwoman Jackie Clarkson has repeatedly made similar comments, for example, that neighborhoods should be respected because they were the first entities to return after Hurricane Katrina, but some business owners protest having to sign private "good neighbor" operating agreements beyond the requirements of city law.
Neighborhood organizations feature prominently among the experience of several District B candidates — most of all for Broadmoor Improvement Association president LaToya Cantrell. Perhaps unsurprisingly, her spokesman said Cantrell embraces their value to the city wholeheartedly, citing the local jobs, commerce and reduction in blight created by her association.
"The Broadmoor Improvement Association has definitely spurred economic activity," wrote David Winkler-Schmit in an email that enumerated a string of successes in Broadmoor, including the Andrew Wilson Charter School and the Keller library/Green Dot Cafe, a partnership with the Salvation Army to build and retrofit homes, and the ongoing revitalization of Washington and Broad with renovations for Laurel Street Bakery, Global Green, Propeller, a new health clinic and other entities. "BIA has been at the table from the beginning, working on an area that has been dormant for decades."
Dana Kaplan, who serves on the board of the Irish Channel Neighborhood Association, agreed that associations are "essential" to building the city's economy.
"Within these organizations we find committed and passionate individuals who know and understand their particular neighborhoods. They know when to say 'yes' and when to say 'no' to specific proposals," Kaplan wrote. "A solution to joblessness and lack of opportunity that does not enjoy the support of the people most directly affected isn't a legitimate solution."
Marlon "Buck" Horton, whose campaign was sparked in part by his efforts to obtain a liquor license for his restaurant Finger Lick'n Wings that the Coliseum Square Association opposed, did not deny the importance of such groups, but took a more restrained view of their role.
"Neighborhood associations have the ability to support economic activity," wrote Horton spokesman John Robert in an email. "Small business owners are the creators. They seek the support of their neighbors, and then take their concept before the neighborhood association. At that point, the association makes the decision that it believes is in the best interest of the community at large. So economic activity is the outcome of a unified effort that engages everyone."
Likewise, longtime banker and businessman Donald Vallee said that the city's land-use laws are the result of years of ongoing work, and that a city council member should not oppose any project that has the proper zoning. Neighborhood associations should have a voice in the process, Vallee said, noting that he has been appointed to city boards to find compromise between developers and historic preservationists.
"It's a fine line to do development and growth with preservation," Vallee said, "and it's the same thing in a neighborhood."
The five candidates will appear on the ballot for District B voters Nov. 6.
To read our live coverage of the Coliseum Square Association, see the box below.
[Note: Our live coverage of the meeting began at 6:33 p.m. Monday, and this post was updated with the article about the other candidates's repsonses at 10:40 p.m.]