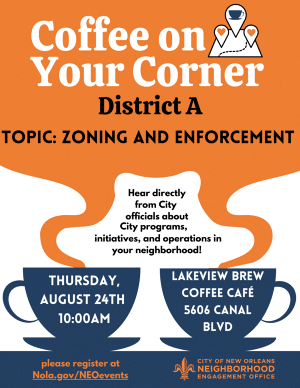 Residents in District A and District B will have a chance to meet with city officials during two August "Coffee on Your Corner" events.
Questions on zoning and enforcement issues will be answered at the District A coffee klatsch. The District B Neighborhood Engagement Office event is on public health and housing.
The Mayor's Office created Coffee on Your Corner to bring city government to neighborhood venues. The events give New Orleanians a chance to hear about city programs, initiatives and operations directly from the officials in charge of them. They are designed to accommodate residents who are less inclined to attend public meetings in the evenings outside of their communities.
The District B Coffee on Your Corner on "Public Health & Housing" will be held Thursday (Aug. 10) from 10 to 11 a.m. at The Fresh Market, 3338 St. Charles Ave. Register here to participate.
The District A Coffee on Your Corner on "Zoning & Enforcement" will be held Aug. 24 from 10 to 11 a.m. at Lakeview Brew Coffee Cafe, 5606 Canal Blvd. Register here.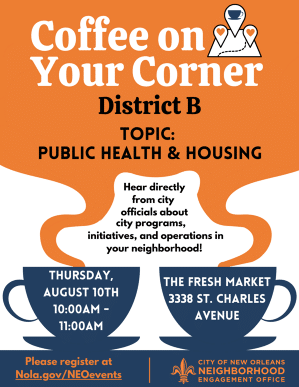 Residents have plenty of changes to meet with district representatives from the Neighborhood Engagement Office during Community Office Hours, held Monday through Wednesday from 10:30 a.m. to 5 p.m.
Office Hours are intended to provide an opportunity to discuss issues within the community and give residents the opportunity for direct dialogue with city staff about interests and concerns. This effort is designed as "a two-way street of effective communication and information flow for addressing neighborhood-level issues," the Mayor's Office states.
The location for Office Hours rotates a few times a year to different neighborhoods in their district. From August through mid-November, District A Office Hours are held at the Gernon Brown Rec Center, 1001 Harrison Ave., and District B Office Hours can be found at Lyons Recreation Center, 624 Louisiana Ave.
To book an appointment during Office Hours, click here or call 504-658-4985.