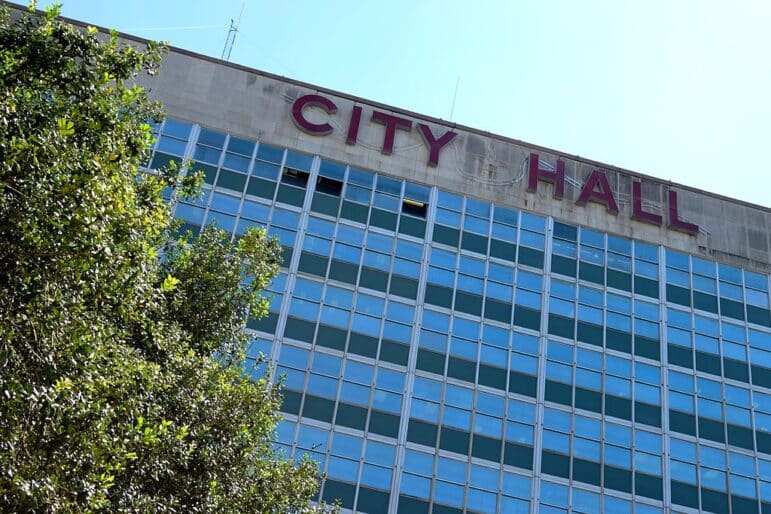 From the Mayor's Office
The Mayor's Office of Homeless Services and Strategy Director Nathaniel Fields provided updates Tuesday (Nov. 21) on city's weeklong efforts to close one of the city's largest homeless encampments on Tchoupitoulas Street under the Pontchartrain Expressway.
The Tchoupitoulas Street encampment was officially closed and fenced off Friday (Nov. 17), and the area is now being patrolled to stop trespassers. Thirty-one people have been housed from the Tchoupitoulas encampment, while five individuals are waiting to be permanently housed. OHSS and partners have also began decommissioning a second encampment.
"Earlier this year, I was honored to be chosen to lead the newly established Office of Homeless Services and Strategy, dedicated to creating solutions to assist our unhoused population through expanding resources, outreach and partnerships in addition to focusing on the root causes of homelessness, like affordable housing," Fields said.
OHSS entered into a Professional Services Agreement with Clutch Consulting Group to help develop and implement a strategic plan, along with stakeholder involvement, to have low or no unsheltered homelessness by the end of 2025. Utilizing a $1.1 million grant from Louisiana Housing Corporation, OHSS and nonprofit partners began connecting people living in encampments to subsidized apartments. This work will also be funded by the $15 million U.S. Department of Housing and Urban Development grant, which was announced this past April.
"A major part of our strategic plan is decommissioning homeless encampments in targeted areas through a 'direct-to-housing' approach," Fields said. "Now, we are closer than ever to achieving our goal of low or no unsheltered homelessness by the end of 2025. Every individual and family living in New Orleans deserves a safe, comfortable place to live, and I am proud to be part of this significant progress."
This year, OHSS has expanded staffing and services capacity at the Low Barrier Shelter and organized a Day of Service to clean up the area, with plans for more in the future. Also, this year, Healthcare for the Homeless expanded its operations to Ozanam Inn, providing women's health and mental health services. They also secured $775,000 in grant funding.
Most recently, Fields attended the U.S. Conference of Mayors' Homelessness Convening in Los Angeles from Nov. 8-9, where he was able to connect with officials from the White House and discuss the next steps for the city's initiatives.