Sponsored by Midway Pizza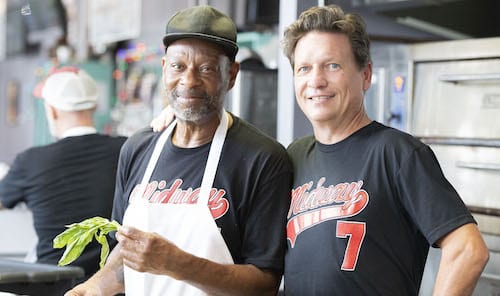 Ben Sherman and Stephen Watson have built a culture of great staff, good food, and gracious company over the last several years at Midway Pizza on Freret Street. They are on track to open a second location in the new airport this February with the same funky-cool feeling the Uptown community loves. With a true neighborhood feel and "the best staff in the city," the pizza joint is proud to be a staple for the Freret corridor. Co-owner Ben Sherman sat with Uptown Messenger—on his birthday of all days—to talk big about the restaurant, their great staff, and the neighbors he loves so much.
"Our goal has always been to be a part of this neighborhood. We're almost eight years in over here," Ben said. "So many people from every part of the neighborhood gather here, whether it be for a football game or family outing, from Tchoupitoulas to well into Broadmoor."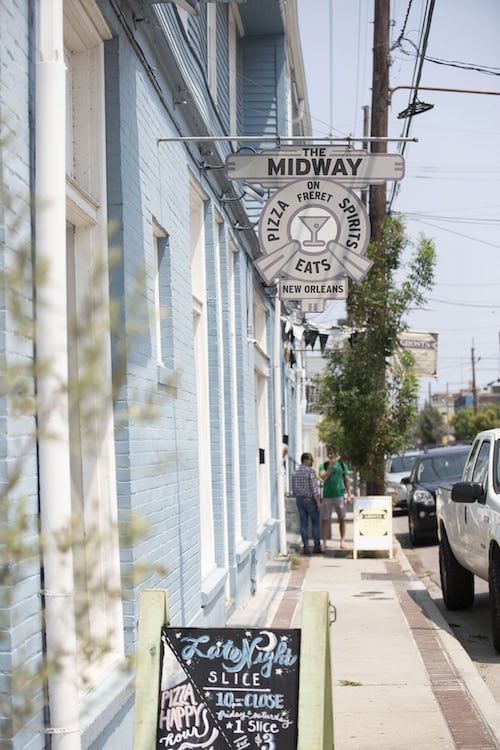 Ben and Steve also own Kingpin on Lyons Street near Prytania.
"It makes us feels special that we're a neighborhood place that surrounds ourselves with a great staff that makes us what we are," he added. "Alongside Kingpin, this is one of the two greatest staffs in town, and we're in a great neighborhood. We feel honored to be here."
Ben says Steve has been instrumental in getting everyone from Lusher, Green Charter, Newman and every school around to be part of the place. Every business owner up and down Freret Street has been gracious and then some. What makes them the proudest, though, is being a place where people can watch a football game, have a beer, and just be part of a great local community.
Before opening Midway, Ben and Steve worked together in Austin, TX. The restaurant walls are covered with art from both Austin & New Orleans. Rock & Roll and luchadores everywhere give the place a one-of-one, cool & funky feel. Most of the artwork is from artists they know personally, but the Mexican wrestler theme has a more organic history.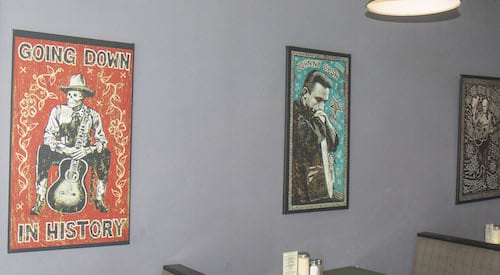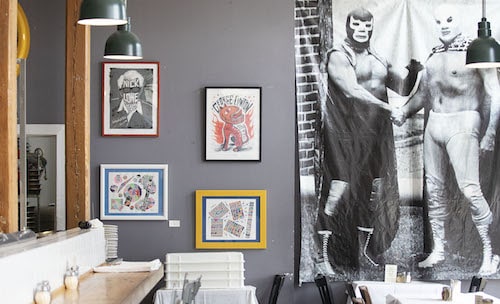 "The luchador came from when we were building out the place," Ben explained. "We were out of butcher paper to put over the windows while under construction, and someone brought that large piece by to cover up the window. When we opened up, we didn't have anything else, we had no more artwork so we put that up and Suddenly everyone started bringing luchadore stuff. Now it's our logo!"
The place has a welcoming feel that meshes well with their freshly made food options and daily specials. The pizzas are big—Deep Dish or Louisiana Thin-style—and they make everything from scratch every day of the week. The Freret Jet, a crowd favorite, is a lunch buffet affectionately named after the street's bus route. The Jet offers a salad and all the pizza you care to eat for just under $10 on weekdays.
"We do a lot to make it affordable for everyone," Ben said. "At any given time of the day, you can get a good deal. That's our point. We want to make this a place that's great, and anyone can come in, whether it's a late night slice and 16 oz. beer, or coming in for all-you-can-eat pizza at lunch. We want everyone to come in here and find a good deal here on any day of the week." See Menu and Specials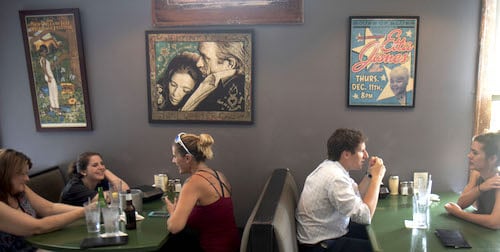 They plan to offer the same concept, same everything with their location in the new airport set to open early 2019. "It's a trimmed down menu with a couple things added on, but it's essentially the same Midway, just in Kenner."
Why open in the airport? "When you're traveling happy, when you're on your way out our on your way in after a long day, or looking forward to something, you can stop by us for a slice and a beer," Ben replied. "We'll be a friendly welcome back or an 'I won't forget ya.' And that's the way we like for people to go in and out of our places. Whether it be the airport or in this restaurant, we're happy to have you, sorry to see you go, and thank you for coming in."
All things considered, Ben says the staff and the neighbors really make Midway what it is. They have the best crew in town with great pizza, and it doesn't hurt to have such great neighbors. Midway isn't a business that seems out of place; instead, it has become an actual part of its neighborhood. Before heading to a birthday lunch with his wife, Ben wrapped up our meeting with this sentiment:
"We feel proud to be a part of the Freret Street corridor, and the neighborhood more importantly. We have done that by surrounding ourselves with the best staff in the city. We owe it all to them."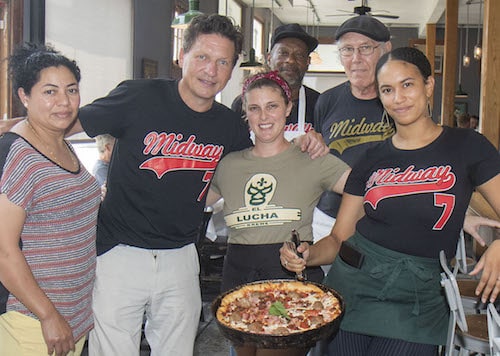 NOLA Messenger Business Profiles are about, and paid for by, local business owners. Read more profiles and learn how you can sponsor your own here.