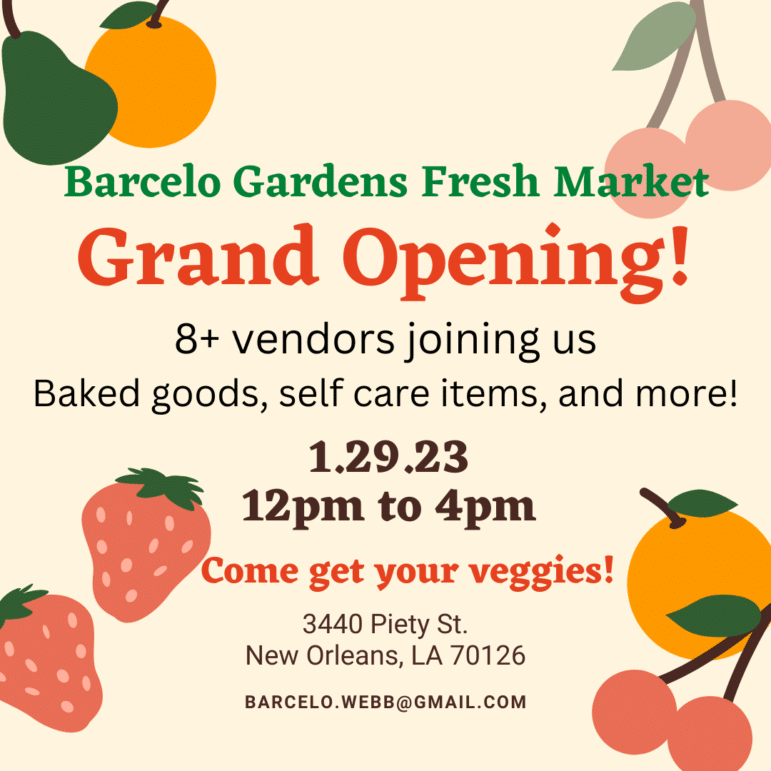 Barcelo Gardens Fresh Market celebrates permanent location Jan. 29 at 3440 Piety St. to bring more fresh produce to food deserts in Louisiana.
---
Barcelo Gardens Fresh Market is excited to announce the opening of the newest location, a permanent venue at 3440 Piety St. This new venture, featuring a brick-and-mortar store and multi-use open space, will bring fresh vegetables and produce to the Florida/Desire area. Barcelo Gardens is a public market, meaning it will also be able to host vendors and food trucks during opening hours.
Born from humble beginnings as a community garden in the 9th Ward, Barcelo Gardens is now a rising farmers market opening the permanent location. During the early Covid pandemic, Barcelo Gardens switched its focus from a community garden to becoming a food-based farmers market, with an emphasis on providing fresh food to underserved communities or food deserts in the Louisiana. 
The market was created with people in mind. All vendors are welcome. The new Piety Street location will be a safe space for all people of color and backgrounds, a place to discover your strengths as an entrepreneur, and grow your customer base. Reach out for more information to become a vendor.
"Finding fresh fruits and vegetables in some areas can be incredibly challenging. Barcelo Gardens Farmers Market is on a mission to fix that." – Uptown Messenger
To help support the effort in reducing food deserts, you can donate to Barcelo's GoFundMe, and can find more details on other ways to get involved.
Market locations, fresh updates and more information can be found on the Facebook. Barcelo now operates in three different locations in the 9th Ward, Gentilly and Napoleonville with more exciting updates in 2023.
The Barcelo mission is to acquire fresh produce from small farms owned by families of color as much as possible. The owners strive to support Black family farms and small business owners (especially beginning entrepreneurs) as vendors at our market. So far Barcelo Gardens have been able to buy $4,606 worth of produce from local Black farms since January 2022.
The newest location at 3440 Piety St. will be open Sunday through Thursday from 10 a.m. to 4 p.m., with local vendors and food trucks available.
The 9th Ward market is open from 10 a.m. to 1 p.m. on Saturdays at 2301 Gallier St., except the first week of the month. Market locations, fresh updates and more information can be found on the Facebook.
The Gentilly Market is located at 3711 Franklin Ave., and is open from 11 a.m. to 3 p.m., the first Sunday every month. Check it out and support local business!
The Napoleonville hours are Fridays from 11 a.m. to 3 p.m. Located at 211 Franklin Ave. in  Napoleonville, LA. Visit the Facebook for up-to-date information and more details.

What: Barcelo Gardens Fresh Market Grand Opening!
Where: 3440 Piety St., New Orleans
When: Sunday, Jan. 29, from 12pm to 4 p.m.
Barcelo Gardens Fresh Market information and updates can be found on Facebook. You can support communities around Louisiana by donating to the GoFundMe fund.