By Marielle Songy, Uptown Messenger
New Orleans native Ryan O'Connor owns Pasta on the Fly, a new Maple Street restaurant that allows diners to build their perfect pasta bowl.
O'Connor was working at the Ritz-Carlton on Canal Street when Hurricane Katrina hit in 2005. He relocated to California, where he worked as general manager of the Michelin-starred Rustic Canyon restaurant in Santa Monica.   
At Rustic Canyon, O'Connor learned from master pasta maker Evan Funke.
"He has the softest touch when it comes to pasta; he rolls out everything by hand," he said. "That was a turning point for me. It was amazing to see what he could do with pasta and the technique that he used. It was intriguing to me; the dishes that he made were fantastic."
Through his work with Funke, O'Connor began developing an appreciation for pasta and the work that goes into it. 
"I look at pasta as a blank canvas. It's a simple food, but you can add different layers to it by incorporating different proteins, vegetables and sauces," he said.
After 10 years on the West Coast and a brief stint in Miami, O'Connor returned to New Orleans. He is now bringing his pasta expertise to the Riverbend with Pasta on the Fly. 
The concept is simple, with a "build your own" menu. First, customers pick from a list of eight sauces, such as Simply Alfredo, Red Gravy Baby, Truffle Love and Creole Cream. Next, they pick a pasta from the selection of spaghetti, fusilli, rigatoni, bucatini, fettuccine, pappardelle or gluten-free and vegan penne. They then can add whatever proteins and vegetables they prefer.  
The restaurant also features some non-pasta starters such as Meatball Trio topped with red gravy, melted mozzarella, basil oil and parmesan; Tigelle, warm flatbreads brushed with olive oil, garlic herbs and Parmesan; and salads such as the Super Caesar, Caprese, and the Crowd Pleaser made with mixed greens, seasonal fruit, goat cheese and candied pecans.
Pasta on the Fly is take-out and delivery only, although there are a few seats outside the restaurant for customers who want to eat their meal on-site. O'Connor said what sets Pasta on the Fly apart from other pasta restaurants is the ability to make a dish your own.
"Of course, most restaurants you go to have a pre-determined menu where you sit down and just order from a list of food they have," he said. "When you break that mold and allow people to create their meal with a high-quality product, there are no barriers."
The pasta and sauces at Pasta on the Fly are made in-house, and fresh pasta is also available for sale at $10 a pound.
In constructing the recipes for the restaurant's sauces, O'Connor said that it was important that they were unique with something different to offer. He also does his best to source all of the ingredients on his menu from local vendors. 
"We knew we had to have a great Alfredo sauce and a great red sauce. We source as many things locally as possible, like our Italian sausage and the pecans that go on our Crowd Pleaser salad," O'Connor said. "We get our cannoli shells from Angelo Brocato. It's all low-scale, with nothing mass produced."
O'Connor added that offering an exclusively take-out and delivery business allows Pasta on the Fly to sell generous amounts of high-quality food at an affordable price while avoiding the overhead that comes with in-person dining.
"I want people to be able to enjoy well-made food and have leftovers of whatever they order," he said. "We have generous portions, so you can split an order or get more than one meal out of it."
O'Connor also noted that he has enjoyed being in the Riverbend and sees a lot of potential in the Maple Street corridor.
"I think Maple Street is coming up like Freret Street and Oak Street," he said. "We want Maple Street to grow with all the other businesses that are opening in this area. This is a street that is very neighborhood-oriented."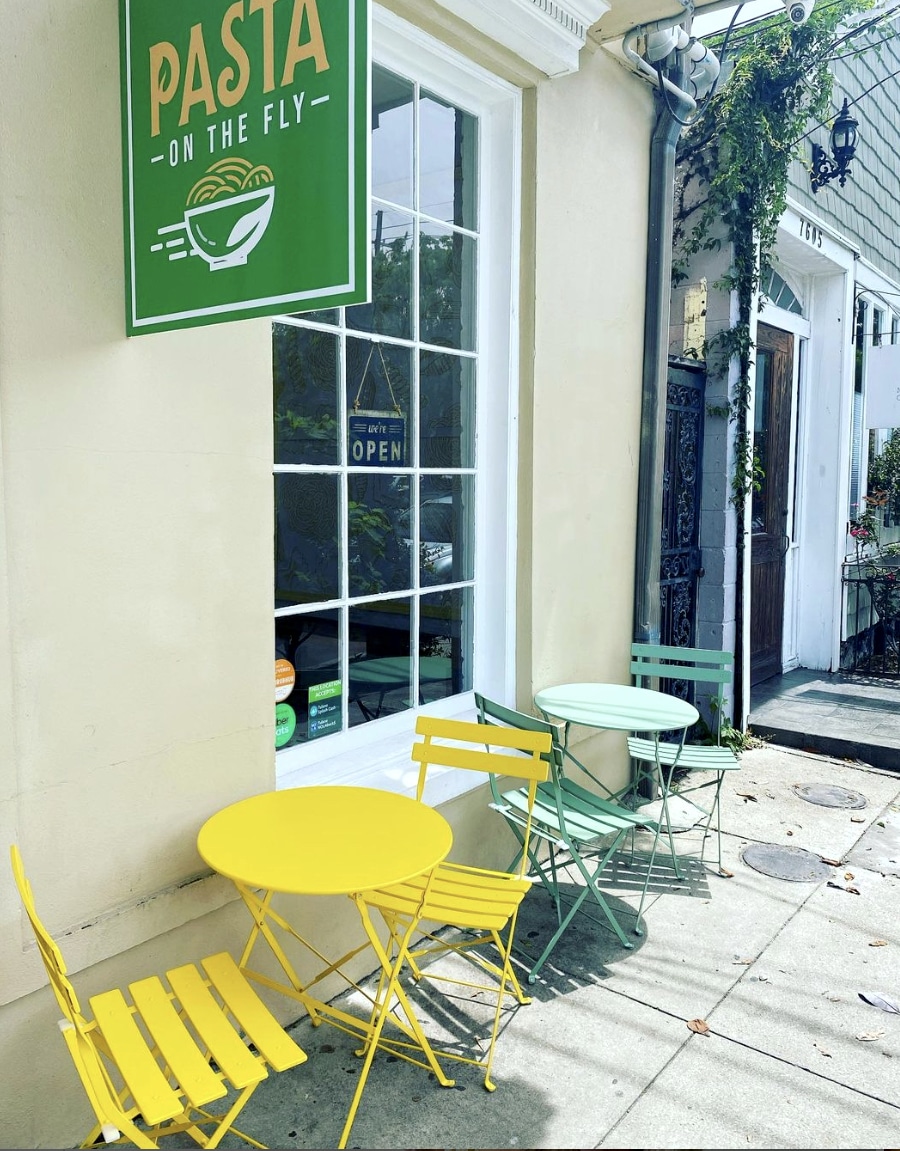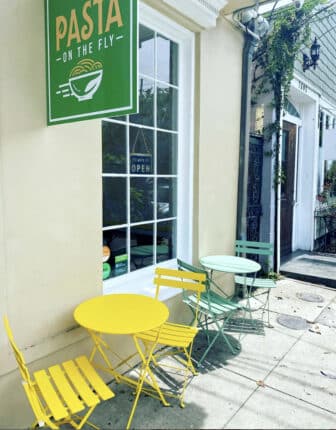 Pasta on the Fly is open Tuesday and Sunday from noon to 10 p.m. and Wednesday through Saturday from noon to midnight. 
Pasta on the Fly
7607 Maple St.
504-962-7282
info@pastaonthefly.com
pastaonthefly.com
Instagram: @pastaonthefly