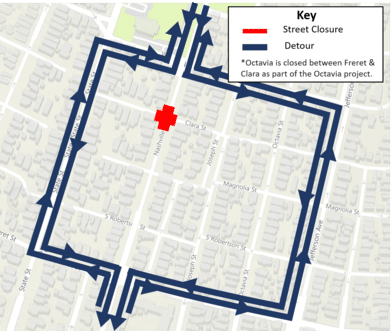 From the Mayor's Office
On Monday (Dec. 20), weather permitting, the city's Public Works' contractor, Boh Bros. Construction, will close the intersection of Nashville and Clara streets to vehicular traffic for approximately one week to accommodate construction on the Audubon Group A project.
Residents in this area are being notified of the closure via neighborhood canvass, according to RoadWork NOLA.
During this time, crews will conduct exploratory work around the underground water lines. Public safety is our priority; barricades will be placed one block away in all directions. Traffic is being rerouted around this intersection through side streets and down Jefferson Avenue. The roadway is anticipated to re-open to traffic by 5 p.m. on Dec. 27.
The entire project is scheduled to be completed by spring 2022. In general, the contractor is working from 7 a.m. until 5 p.m., Monday through Friday.
Since May 2018, DPW has completed 99 projects with an estimated value of $282 million. Today, more than 70 roadwork projects are under construction, estimated at nearly $700 million.
For more information, visit www.roadwork.nola.gov. Questions about this project or RoadworkNOLA should be directed to 504.658.ROAD (7623) or roadwork@nola.gov.
To sign up for RoadworkNOLA text messages, you can text ROADWORK to 77295 or go to ready.nola.gov/alerts to create a whole profile and select the "roadwork" alert list.