McKinley "MAC" Phipps is currently serving a 30-year sentence for manslaughter, a crime for which he maintains his innocence. February 21, 2019 (this Thursday) marks 19 years he has been incarcerated behind the walls of the Elayn Hunt Correctional Center.
BAR NONE, a multidisciplinary arts initiative that focuses on "transcending incarceration through the arts," will host a community conversation about MAC, his impact, and justice for him on Thursday.
"A Conversation for Justice: Why MAC Phipps?!" takes place from 6:30 to 8 p.m. at 8539 Willow St. (at the corner of Leonidas St.). This event is free and open to the public, however, sitting is limited. Donations are welcomed.
See more from BAR NONE about the event below: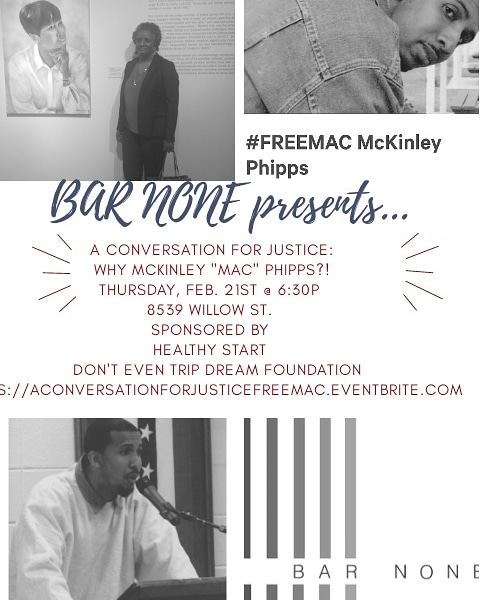 This heinous and unfortunate murder of a young Black man was and is horrific, however, it did not happen at the hands of MAC. MAC, like so many Black men and women, have been railroaded through the criminal injustice system, and it continues to this day as his attempt at an appeal was denied because although a "model prisoner," he had not committed any infractions.
We are clear that MAC being a popular rapper on an even more well-known record label (No Limit) is why MAC is being held captive and is an example to this racist, systemic, power structure that still exist in this country.
So on Feb. 21st, hear from MAC's parents (Sheila & McKinley Phipps, Sr.), siblings, cousins, friends, Mr. Mena (1/2 of Partners-N-Crime), Chris "1 Eye" Williams (friend and former group member), Mia X (friend and former label mate), Vernon Cook (friend and served prison time with MAC, and co-founded the music program @ Hunt with MAC), and others as they share thoughtful, heartfelt and heart-wrenching stories about MAC, and find out how you can help us bring him home.
Related: