Celebrating Christmas doesn't have to involve opening your wallet. You can fill your ears and your spirit with sweet yuletide sounds, and enjoy a respite from holiday frenzy, at free concerts throughout the city during December.
Gospel choirs, jazz bands, classical artists and more perform in historic church settings during December. Here's a list below — and if you know of others, please put the information in the comments section below or email uptown@nolamessenger.com.
All of these concerts are free and open to the public – although donations, of course, are always welcome.
Redeemer Presbyterian Church, 583 Broadway Ave.
Christmas Party Featuring Gal Holiday
Friday, Dec. 7 at 7 p.m.
The Redeemer Christmas Party will feature music by Gal Holiday and the Honky-Tonk Revue and a professional photo booth by Andreas Koch from 7 to 9:30 p.m. There will be a chili contest and prize for "Most Spirited Xmasy Outfit," as well as other raffle and door prizes. Kids' crafts, nursery care, food, drinks (wine and non-alcoholic), and desserts will also be there. The event is free; RSVP at info@redeemernola.com.
Church of Our Lady of Good Counsel, 1307 Louisiana Ave.
A Garden District Christmas Concert
Sunday, Dec. 9 at 4 p.m. (preceding the 5 p.m. Mass)
Featured will be several of New Orleans' finest musicians, including soprano Phyllis Treigle, tenor Casey Candebat, soprano Melissa Brocato, tenor Kevin Rouchell, and organist Brian Morgan, director of music. The Good Shepherd Choir will be heard in Gregorian Chant.
Composers included will be Adolphe Adam, Jehan Alain, Georges Bizet, Benjamin Britten, Charles Gounod, Sir Peter Maxwell Davies, Cesar Franck, Calvin Hampton, Nicola A. Montani, and Pietro A. Yon. The repertoire performed will be a mixture of the familiar and unfamiliar.
Christ Church Cathedral, 2919 St. Charles Ave.
A Festival of Nine Lessons and Carols
Sunday, Dec. 9 at 4-5:30 p.m.
The choir sings the beloved service of Bible readings interspersed with music of the season. Anthony Sears conducts, Jarrett Follette plays the organ.
Trinity Episcopal Church, 1329 Jackson Ave.
The Trinity Artist Series concerts, a 30-year New Orleans tradition, are held in Trinity Episcopal Church in the Garden District.
Lusher All School Orchestras
Sunday, Dec. 2 at 2 p.m.
100 performers present a winter theme program of music by Prokofiev and others.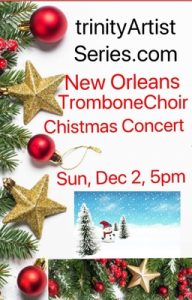 The New Orleans Trombone Choir
Sunday, Dec. 2 at 5 p.m.
John Risey, director in a program of Christmas favorites from pop culture hits to gospel and jazz.
Krewe de Voix: Christmas in Tudor England
Friday, Dec. 7 at 7 p.m.
Krewe de Voix Chamber Choir will present a program of English choral music from the age of Henry VIII to Elizabeth I featuring carols, motets and hymns of the period. A 12-voice all-professional ensemble specializing in Renaissance and Baroque music, Krewe de Voix will kick off its third season with the music of William Byrd, Thomas Tallis, Thomas Weelkes and other great composers of the late English Renaissance.
The New Orleans Black Chorale Annual Christmas Concert
Saturday, Dec. 8 at 6:30 p.m.
With Dr. John E. Ware, conductor, Veronica Down Dorsey, pianist and Albinas Prizgintas, organist. This year's theme is "Follow the Drinking Gourd, Follow the Star." The Black Chorale, founded in 1979, is noted for singing traditional spirituals as well as compositions and arrangements by contemporary African-American composers.
Festival of Nine Lessons and Carols: Celebrating Trinity's Mission Partners
Sunday, Dec. 16 at 5 p.m.
Trinity Episcopal Church will host a Festival of Nine Lessons and Carols to celebrate mission partners in the greater New Orleans community. Proceeds from the evening will go to participating charities. The service will include carols and choral works of the season lead by the Trinity Choir, Paul Weber, choirmaster, and Jarrett Follette, organist.
Very Very Special Music Celebrating Christmas at Organ & Labyrinth
Tuesday, Dec. 18 at 6 p.m.
Albinas Prizgintas plays the 5000-pipe tracker organ, piano and harpsichord with candlelight, ambient lighting and guest musician. A Tuesday evening tradition since since Katrina, the organ and labyrinth experience is a unique and magical distinctively New Orleans musical meditation. See www.albinas.org for more details.
Messiah Holiday Concert
Sunday, Dec. 23 at 5 p.m.
A holiday program featuring Paul Weber, Trinity's organist and choirmaster, and soloists from the Trinity Choir will include excerpts from the Messiah, solo instrumental and vocal works for the season, and a festive audience-participation rendition of the Hallelujah Chorus.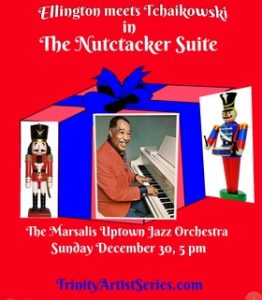 Special Holiday Celebration
Sunday, Dec. 30 at 5 p.m.
Grammy Award winning musician Delfeayo Marsalis and his Uptown Jazz Orchestra featuring Duke Ellington/Billy Strayhorn's jazzy rendition of the classic Nutcracker Suite, classic holiday songs and a good old-fashioned  second-line ending. The Uptown Jazz Orchestra combines the best elements of the big band sound with a unique New Orleans flavor.
Benjamin Franklin High School, 2001 Leon C. Simon Drive
Holiday concert
Friday Dec. 7, 6-9 p.m.
The band, choral class, and string orchestra will perform fun holiday music. Student artwork will be on display in the school's library gallery with a reception during intermission. There will also be potluck-style food from different cultures to showcase the school's beautiful diversity available for $8 either before or after the performance.
St. Louis Cathedral, Jackson Square
Fronting on Jackson Square in the heart of the French Quarter, the historic St. Louis Cathedral and Basilica plays host to free annual holiday concerts, produced by French Quarter Festivals Inc.
Magnolia Sisters (Cajun)
Monday Dec. 3, 6-7 p.m.
Leroy Jones (jazz)
Tuesday, Dec. 4, 6-7 p.m.
Harpist Rachel Van Voorhees (classical)
Wednesday, Dec. 5, 6-7 p.m.
Lyle Henderson and Emanuel (gospel)
Thursday, Dec. 6, 6-7 p.m.
Shannon Powell (traditional jazz)
Sunday, Dec. 9, 6-7 p.m.
Topsy Chapman and Solid Harmony (jazz)
Monday, Dec. 10, 6-7 p.m.
The Iguanas (Latin)
Tuesday, Dec. 11, 6-7 p.m.
Shades of Praise (gospel)
Wednesday, Dec. 12, 6-7 p.m.
Christmas Organ Spectacular, featuring Emmanuel Culcasi (classical)
Thursday, Dec. 13, 6-7 p.m.
St. Louis Basilica Annual Christmas Concert (classical)
Sunday, Dec. 16, 5:30 p.m.
The St. Louis Cathedral Concert Choir and Orchestra will present Benjamin Britten's cantata, St. Nicolas Op. 42, conducted by Dreux Montegut, director of music.
St. Augustine Catholic Church, 1210 Gov. Nicholls St.
St. Augustine is the oldest African-American Catholic church in the United States and is located in the historic Treme neighborhood. Free secure parking is available in the church's parking lot — enter from Henriette Delille Street (formerly St. Claude Avenue). The concert series is produced by French Quarter Festivals Inc.
Philip Manuel (R&B)
Saturday Dec. 1, 4 -5 p.m.
Kim Che're (gospel)
Saturday Dec. 8, 4 -5 p.m.
Lawrence Cotton Legendary Experience (traditional jazz)
Saturday Dec. 8, 4 -5 p.m.
[Updated Dec. 3 to include Christ Church Cathedral concert, Dec. 6 to include Redeemer Church Party.]