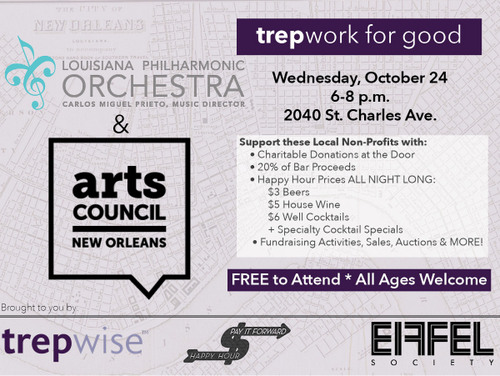 A fundraiser Wednesday night at the Eiffel Society on St. Charles Avenue will benefit the Louisiana Philharmonic Orchestra and the Arts Council of New Orleans, and will feature a live string duet and an art installation.
The "trepwork for good" Pay It Forward Happy Hour fundraiser will be from 6 p.m. to 8 p.m. Wednesday (Oct. 24) at the Eiffel Society, 2040 St. Charles Avenue. Attendance is free, and 20 percent of the bar proceeds will be split by the Arts Council and the orchestra.
"The Arts Council will feature a large-scale Kaleidoscope and Moose from LUNA Fête and LPO will showcase a live musical string duet," according to the announcement.
Specialty cocktails created for the event include the "Lemon Cello," a variation of a lemon drop, and the "Luminator," a rum punch inspired by the LUNE Fête, and both will cost $5. Happy-hour prices for other drinks will include $3 beers, $5 win, $6 well drinks and cocktails.
The Arts Council is using the fundraiser to support the LUNA Fête arts festival of light, art, and technology in December. The LPO will dedicate its donations to the "Music for Life" program, which provides mentoring for at-risk school children from orchestra musicians at sites in Tremé, Mid-City, Central City, Seventh Ward, and New Orleans East.
Both organizations will have other fundraiser opportunities at Wednesday's event, and the orchestra will be accepting used instruments as donations.