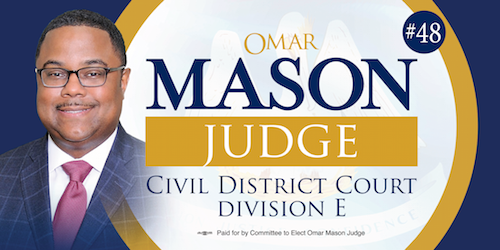 Omar K. Mason, Candidate for Civil District Court Judge
Every six years, the citizens in New Orleans are faced with a critical question – who deserves to be elected judge of Civil District Court? Unfortunately, due to the untimely death of Judge Clare Jupiter, the voters of Orleans Parish must answer this important question earlier than expected. As the legal community mourns the passing of a terrific colleague, friend, and judge, the citizens of Orleans Parish are reminded of the significance of who will be granted the opportunity to serve our community for the remaining two years of Judge Jupiter's term.
It is with great humility, enthusiasm, and preparedness that I ask the people of New Orleans for their vote to serve our community as the next Judge of Civil District Court, Division E.
Every day we turn on the news, we are reminded of the serious times that we live in. Hatred, oppression, divisiveness, and injustice are regrettably consistent realities experienced by the people of New Orleans. The honest truth is that our communities and country have been here before. However, now, just like in years past, communities will rely on a fair-minded, experienced judges to interpret laws equitably. The realities of the current climate of our country makes one thing clear, with respect to who should be elected judge, New Orleans deserves experience on the bench.
I am the only candidate in this race with the substantive experience that warrants your trust, support, and your vote. In my nineteen years as a litigator, I have represented clients on both sides of the civil docket, including complex litigation, general litigation, and civil family disputes. The person qualified for this judgeship needs to have the type of experience that I have worked hard to obtain. As Judge, I pledge to use my preparedness and vast legal experiences to ensure that the people in my courtroom are treated with the fairness and dignity they deserve while holding attorneys accountable to the legal standards of our profession.
Too often, voters are forced to cast their vote while sifting through partisan rhetoric and support. However, I am proud that in this race, my experience, work ethic, and legal acumen have earned the bi-partisan respect and support of my colleagues in the legal community. That respect and support is unmatched. Whether you talk to lawyers I have worked with or against during my practice, they will agree that my professionalism and ethical standards are second to none. As such, I am honored to have been given a vote of confidence by my peers in the legal community as the winner of the New Orleans Bar Association Lawyer's Poll for who they believe is best qualified to serve as a strong judge. Their trust in my abilities to serve as Judge separates my candidacy from my opponents.
In addition to my superior legal experience, I am a proven community servant. I am a longtime national leader of the Knight of Peter Claver Catholic Organization, Chair of the Federal Bar Association's Philanthropy Committee, member of Alpha Phi Alpha Fraternity, Inc., and former Board Member of Audubon Charter School.
Lastly, I believe it is important for me to outline how I plan to use my experience to aid in the lives of the people of New Orleans. The current condition of the courthouse in Orleans is inadequate and has created an access to justice issue. Consequently, as Judge, I won't just sit and be the silent freshman on the Bench. Instead, I will serve the public by advocating for a new courthouse. Additionally, I promise to be personally involved in all matters litigated in my courtroom to ensure that cases are effectively prioritized and that the docket moves forward with efficiency. Moreover, as a Public Servant, I pledge to bring the court to the public, by volunteering my time to educate our communities about the key role that we as citizens play in the judicial process – be that the importance of serving on a jury, testifying as a witness, or showing the people that the courts are here for them and are necessary for our democracy.
I am a proud husband, father, and experienced attorney, I'm asking for your prayers, support, and your vote. I'll be a judge that doesn't just sit on the bench, but one who stands up for our communities.
New Orleans deserves nothing less!
Sincerely,
Omar Mason
Candidate for Judge
Civil District Court, Division E
Vote for Experience Next Tuesday, November 6th
www.okmasonforjudge.com
[This advertiser's message is paid political advertising by Austin Badon. UptownMessenger.com does not endorse candidates for election.]