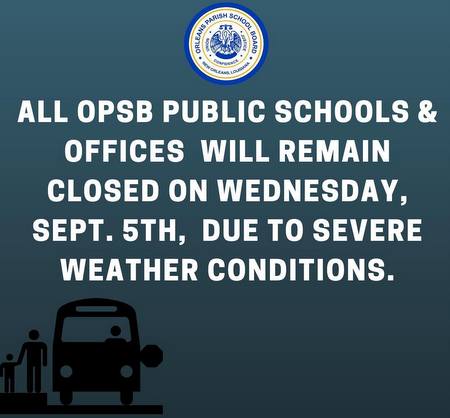 All Orleans Parish schools will remain closed on Wednesday as Tropical Storm Gordon proceeds toward an expected hurricane-strength landfall overnight, officials said Tuesday afternoon.
For details, see the announcement from Orleans Parish School Board released Tuesday afternoon:
Due to continuing storm threats and resulting complications from Tropical Storm Gordon, the Orleans Parish School Board (OPSB) has announced that all public schools in Orleans Parish will remain closed on Wednesday, September 5, 2018. The district previously announced closures for Tuesday, Sept. 4.

Students and families are urged to adhere to city-wide recommendations concerning the storm. Announcements regarding additional days will be forthcoming.

The OPSB continues to carefully monitor the development and progress of the storm. As a precaution, the OPSB will remain on alert and ready to respond as necessary to ensure the safety of our students, faculty, staff and facilities.

Visit www.opsb.us for the latest news and updates regarding school updates due to the storm.

For more information, visit www.opsb.us and OPSB Facebook and Twitter (@_OPSB) pages.